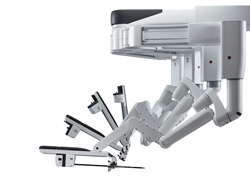 It was immensely gratifying to work with our talented team who were marvelously adept at using the most sophisticated robotic equipment.
Jersey City, NJ (PRWEB) September 15, 2014
CarePoint Health is proud to announce that the first da Vinci robotic surgical cases in the State of New Jersey using the new Xi platform were performed at Christ Hospital on August 26, 2014. The surgeries were performed by Dr. Michael Ahn, Dr. Ravikumar Brahmbhatt and Dr. Daniel Smith and were supported by a specialized team of nurses and anesthesiologists, specifically trained for robotic procedures. Dr. Brahmbhatt, performed a cholecystectomy (surgical removal of the gallbladder). Dr. Smith and Dr. Ahn performed two surgeries: a salpingo-oophorectomy (the removal of the fallopian tube and ovary) and a total hysterectomy with salpingo-oophorectomy. The surgeries were the first such procedures ever performed in the state of New Jersey using the da Vinci Xi platform. The patients in each case were able to return home the day after their successful surgeries. These procedures mark another milestone for CarePoint Health, where the use of the da Vinci Si and Xi robot platforms are revolutionizing health care.
"It was immensely gratifying to work with our talented team who were marvelously adept at using the most sophisticated robotic equipment," reflected Dr. Smith. "The diligence and attentiveness of the dedicated nursing group has led to the success of this important project. Their skill and efficiency will benefit our surgical patients at CarePoint Health."
CarePoint Health hospitals now offer both the daVinci Si and Xi platforms utilizing multiple-port access and/or single-site access. Additional advanced technology includes FireFly viewing, which offers selective identification of anatomic structures and pin point localization of some diseases. The use of the da Vinci robot provides a safe and effective operative intervention using the latest technology. Due to the precision in technique possible with use of 3D high-definition vision and cutting edge robotic tools, there is minimal chance of complication. And because surgeries using the da Vinci robot are conducted through minimally invasive incisions, recovery time is dramatically improved, post-operative pain is lessened and patients spend less time in the hospital. The benefits to patients are clear: early recovery and early return to daily activity, less bleeding, low rate of wound infection, virtually no post-operation scars and high patient satisfaction.
For more information about these groundbreaking surgeries, contact:
Allyson Miller
CarePoint Health
Vice President of Marketing and Public Relations
Phone: 201-858-5297
Fax: 973-646-5563
Email: AMiller(at)bayonnemedicalcenter(dot)org
About CarePoint Health
CarePoint Health brings quality, patient-focused health care to Hudson County. Combining the resources of three area hospitals - Bayonne Medical Center, Christ Hospital in Jersey City, and Hoboken University Medical Center - CarePoint Health provides a new approach to deliver health care that puts the patient front and center. We leverage a network of top doctors, nurses and other medical professionals whose expertise and attentiveness work together to provide complete coordination of care, from the doctor's office to the hospital to the home. Patients benefit from the expertise and capabilities of a broad network of leading specialists and specialized technology. And at CarePoint Health, all of our medical professionals emphasize preventive medicine and focus on educating patients to make healthy life choices. For more information on our facilities, partners and services, visit our website, http://www.carepointhealth.org.
About Dr. Michael Ahn
Dr. Ahn is a graduate of the New York College of Osteopathic Medicine. He completed his residency at Jersey City Medical Center, where he served as Chief Resident in 1998. Dr. Ahn currently serves as the Director of the Department of Obstetrics and Gynecology at Hoboken University Medical Center, preceptor for both Family Medicine programs at Columbia University and the Nurse Practitioner program at New York Medical College and is an attending physician with Integrated Women's Health. Dr. Ahn is familiar with Korean and Spanish. Dr. Ahn incorporates homeopathic and osteopathic principles in his practice. Professionally, his special interests include high risk pregnancy, minimally invasive surgery, menopause and peri-menopause and electronic medical records. His personal interests include fitness, nutrition, volunteer work, skiing, and the Yankees.
About Dr. Ravikumar Brahmbhatt
Dr. Brahmbhatt was born and raised in India where he completed medical school and his General Surgical residency at M.S. University of Baroda. He completed a second General Surgical residency at New York Methodist Hospital in Brooklyn and a Fellowship in Surgical Critical Care at Cooper Hospital in Camden, New Jersey. Dr. Brahmbhatt is Board Certified in General Surgery and Surgical Critical Care. He specializes in Advanced Laparoscopy Surgery and General Surgery including intestinal disease.
About Dr. Daniel H. Smith
Unique in his training in Obstetrics and Gynecology, GYN Oncology, and General Surgery, Dr. Daniel H. Smith brings broad technical experience to women with severe gynecologic problems. At CarePoint Health, he leads Gynecologic Oncology and General Gynecology. Dr. Smith is one of the first gynecologists certified to use the da Vinci robotics platform, and he offers this additional level of minimally invasive surgery to his patients. Dr. Smith is also committed to other aspects of minimally invasive surgery such a single port laparoscopy complex gynecologic problems. Dr. Smith is also well recognized for his training of new surgeons on the use of robotics and the innovative role they plan in surgical advancement.
Originally from Oklahoma, Dr. Smith graduated from both Harvard College and Harvard Medical School. He began his General Surgery residency at the Massachusetts General Hospital. During this surgical residency, which he completed in 1979, he also completed a residency in Obstetrics and Gynecology at Los Angeles County/USC Medical Center. Following his planned trajectory, he then completed a Fellowship in Gynecologic Oncology at Memorial Sloan-Kettering Cancer Center. Dr. Smith has practiced in both New York and New Jersey. He is active in teaching and attained the first Center of Excellence in Minimally Invasive Gynecology in New Jersey.