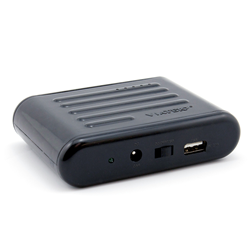 Chattanooga, Tennessee (PRWEB) September 14, 2014
It's inevitable: first the phone battery goes, then the car battery dies. Now the consumer is left messing with jumper cables on the side of the road or in a desolate parking lot without the security of having a working phone nearby. Viatek Consumer Products Group introduces the Pocket Jump – the first-ever product of its kind. Equipped with Smart Charge technology, it can recharge devices like smart phones, tablets, and gaming devices, while still retaining enough power to jump-start a vehicle – all from the security and convenience of the driver's seat. The Pocket Jump is also rechargeable, guaranteeing safety and convenience for years to come.
The Pocket Jump is portable. In fact, it actually fits in conveniently in the pocket, (say goodbye to bulky equipment) yet possesses enough power to jump-start a car. It's durable and practical, yet sleek and stylish enough that the consumer won't want to leave home without it. Available in red, blue, purple, silver, and black.
The Kickstarter is scheduled to launch September 19, 2014 with a goal of $100,000. Funds raised will go to fine-tuning form and function as well as moving the product into the important manufacturing phase. The product is invented by a core group of designers, engineers, and operations staff based in Chattanooga, TN. Collectively, Viatek staff have built products and services that millions of people around the world use and love. Product is scheduled to start shipping January 2015.
For more information on the Pocket Jump, please visit: supportpocketjump.com