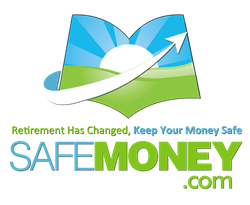 Our trusted independent network is dedicated to making sure you're fully apprised of the options at your disposal. We're happy to help you however we can
Cherry Hill, NJ (PRWEB) September 18, 2014
For baby boomers and seniors, the pathway toward financial security can be uncertain. And with the economic turmoil in recent years, many people are anxious over whether they will have enough money for their retirement.
Safe Money Resource understands the pressures that today's investors face. To help them navigate the complexities of retirement planning, it is releasing a new white paper filled with need-to-know information on annuities and their value as a financial vehicle. In this comprehensive resource, people will be connected with timely content on what annuities are, how they can be a valuable part of a financial portfolio, and selecting a client minded financial advisor, among other complementary areas of interest.
"There's a lot of thick, confusing information out there about retirement planning and annuities. Not all annuities are equal in the benefits they deliver," explained Brent Myer, President and co-founder of Safe Money Resource. "We've put together this guide to help you understand what's involved with annuities so you can see where they might fit into your retirement plan."
In the white paper, aging and retiring investors will learn:

What an annuity is
The different kinds of annuities available
How some advisors can misrepresent the value that an annuity actually presents
Basic sound principles for retirement planning for aged investors, especially the need to minimize risk
The difference between captive and independent advisors
Common annuity purchase mistakes
Important questions to ask before purchasing an annuity
So much more
This white paper can be found at: SafeMoney.com
In addition to this new guidebook, SafeMoney.com is a respected online destination for up-to-date information on other investment options. On the website, people can find many articles and other resources on annuities, life insurance, long-term care insurance, Social Security benefits, and more. There is helpful content on the basics of solid estate planning and strategic retirement income planning.
Later this year, Safe Money Resource will be releasing a comprehensive, informative book on the many facets of retirement planning. In line with its commitment to investor education, Safe Money Resource also represents a small network of independent financial specialists who are licensed annuity experts.
When they join the network, these professionals are carefully vetted for professional ethics, complete commitment to client success, and a track record of helping investors reach their financial objectives. Through this "Safe Money Approved" process, baby boomers and retirees will be connected with trustworthy, experienced wealth planners who are fully committed to their goals and needs. Since they are independent agents, these financial experts are able to go over the advantages and downsides of many financial products and services from multiple insurance carriers.
"Don't hesitate to contact us at 877-GROW-SAFE (877-476-9723) with any questions. We're here to assist you with your retirement planning needs and provide reliable, non-biased financial guidance," stated Meyer. "Our trusted independent network is dedicated to making sure you're fully apprised of the options at your disposal. We're happy to help you however we can."