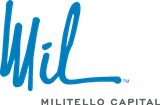 "We are energized about the future prospects of our recent investments, especially as we continue to align our capital with veteran venture capitalists and bring value-add real estate deals to our investors."
Leesburg, VA (PRWEB) September 16, 2014
Militello Capital, a greater Washington, DC private equity investment firm, maintained a consistent pace of investments in venture capital and real estate over the course of the traditionally dormant summer months for the private equity market.
"Our ongoing deployment of capital in the real economy confirms our passion and due diligence in uncovering wealth creating opportunities," says William Militello, co-founder of Militello Capital. "We are energized about the future prospects of our recent investments, especially as we continue to align our capital with veteran venture capitalists and bring value-add real estate deals to our investors."
Over the summer, Militello Capital made investments in seven emerging technology companies and acquired two multi-family apartment communities, including:

Social Tables, a web-based hospitality SaaS technology bringing powerful sales and operations tools to thousands of hospitality professionals.
Fancred, a mobile and online social media sports community.
Distil Networks, the worldwide leader in bot detection and mitigation.
Smart Lunches, a virtual lunch service helping thousands of families in the Boston, Philadelphia, Chicago and Washington, D.C. areas feed their kids fun, healthy lunches at schools, day cares and camps.
Brazen Careerist, powers real-time, online events for leading organizations around the world. Its interactive communication platform, Brazen Connect, is used by thousands of companies, universities, associations, and membership organizations for better recruiting, expanded networking, mentoring, and audience engagement.
Exec Online, is transforming the executive education space by enabling world class educational organizations to deliver the quality of in-classroom instruction through an online user experience. Through its partnership with leading business schools, ExecOnline offers interactive online programs to Global 2000 companies.
Social Toaster, a fan engagement and loyalty rewards platform that helps clients identify, recruit, engage, and monetize social audience.
Madison Woods Apartments, a 180-unit multi-family apartment community in Guilford County, Greensboro, NC.
Hillwood Pointe Apartments, a 180-unit multi-family apartment community in the Hillwood area of Nashville, TN.
About Militello Capital
Militello Capital is a Northern Virginia-based private equity investment manager working exclusively with registered investment advisers (RIAs) who aim to broaden their portfolio allocations to include entrepreneurs and real estate. Militello's investment philosophy and strategy are based on the principle that today's wealth is created in the real economy. The firm currently offers RIAs two distinct investment strategies that complement their existing portfolios: direct investments in income-producing commercial real estate and emerging technology venture capital.
The information contained herein should not be construed as personalized investment advice. Investing in venture capital companies involves some degree of risk and may not be suitable for all investors. Information presented herein is subject to change without notice and should not be considered as a solicitation to buy or sell any security. The companies highlighted above are not necessarily the highest performing investments in the fund, but are noted as purchases made to date. The reader should not assume that investments in the companies identified were or will be profitable.