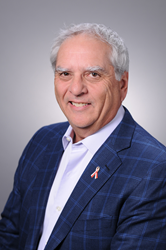 Rockville, MD (PRWEB) September 15, 2014
Dr. Steven N. Rice of Advanced Laser Gum Surgery Institute of Washington celebrates Self-Improvement Month by educating patients on the importance of treating gum disease. As a periodontist in Rockville, MD, Dr. Rice assumes the responsibility to teach those in the area about periodontal disease, its symptoms, and treatment options. For most people, periodontal disease begins with a buildup of plaque on the teeth. The bacteria in plaque inflame and infect gum tissues, causing redness, bleeding, bone loss, and potential tooth loss. These gum disease symptoms are unpleasant, but an advanced treatment called the LANAP® laser protocol treats the disease and encourages the regrowth of healthy tissue.
Many local residents do not seek a periodontist in Rockville, MD soon enough when they have gum disease. Anyone who notices that their gums are puffy, red, or bleed easily should seek help. The early stages of gum disease are easy to treat; often a good cleaning and a prescription mouthwash are all that patients need at this stage. Left untreated, however, pockets between the gums and the roots of teeth begin to develop as bacteria work their way past the gum line. This progression often leads to increasingly serious gum disease symptoms, such as bone loss and the loosening of teeth. It is generally not until this stage that patients begin to feel discomfort. Fortunately, Dr. Rice has the technology needed to diagnose and treat patients at any stage of gum disease.
Patients suffering from gum disease may benefit from treatment with the LANAP® laser protocol. This treatment is performed by inserting the PerioLase® MVP-7™ laser into the pockets between the gums and teeth. Using the laser, Dr. Rice removes the bacteria and infected tissues and stimulates surrounding bone tissue to regrow. Prior to the LANAP® laser protocol, patients had to choose between an invasive gum surgery and extraction of teeth to address periodontal disease. Now, they can visit a periodontist in Rockville, MD for advanced treatment that involves very little discomfort.
Anyone who is either looking for a periodontist or who would like to learn more about gum disease symptoms and treatment options is invited to visit Dr. Rice's website or call his office.
Dr. Rice believes in the importance of both Self-Improvement Month and education, and is always happy to answer questions and empower patients to improve their health.
About the Doctor
Advanced Laser Gum Surgery Institute of Washington is a periodontal practice offering patients personalized dental care in Rockville, Maryland since 1981. Dr. Steven N. Rice received a Doctor of Dental Surgery degree from the University Of Maryland School Of Dentistry. He continued his education as a General Practice Resident in the United States Army, where he was awarded a Medal of Commendation. He studied periodontics at the Medical College of Georgia and was recognized as a Diplomate of the American Board of Periodontology upon completion. Dr. Rice is part of one percent of dental professionals providing the LANAP® FDA cleared laser procedure for gum disease treatment. To learn more about Advanced Laser Gum Surgery Institute of Washington and their dental services, visit their website at http://www.advancedgumsurgery.com and call (240) 747-7355.