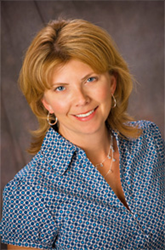 Scottsdale, AZ (PRWEB) September 15, 2014
Dr. Alison P. Schwartz of Healthy Smiles Dentistry honors Self-Improvement Month by encouraging residents who have receding gums in Scottsdale, AZ to receive treatment. She uses the Pinhole Surgical Technique (PST™), which is an advanced procedure that allows her to restore receding gum tissues without the need for cutting, stitches, and gum grafting. With the help of PST™, people can feel good about their smiles again. In addition to the aesthetic problems that gum recession produces, Dr. Schwartz reminds patients that this condition may also lead to issues such as tooth sensitivity and root surface decay.
To perform PST™, Dr. Schwartz creates a tiny opening in the gums near the area of recession. This approach is minimally invasive, especially when compared with traditional gum grafting procedures in which the procedure often replaces. Through this opening, Dr. Schwartz uses specialized instruments to loosen the gums from their positions on the teeth. She carefully moves the gums into a more desirable placement, where they are better able to cover the roots of teeth. A single appointment is often enough to restore receding gums for Scottsdale, AZ patients. Most people are able to return to their typical activities the same day as they receive treatment. They experience only slight discomfort and generally notice an immediate improvement in their smiles.
Many mistakenly believe that gum recession is purely a cosmetic problem. While it is certainly true that recession alters the appearance of a smile, there is much more involved than aesthetics. When gum tissues recede, they leave the roots of teeth exposed. Unlike the crown portion of a tooth, which is covered with protective enamel, exposed roots have little defense against decay. Those with receding gums in Scottsdale, AZ often have more root surface cavities and structural damage as a result. Eventually, recession can become so severe that tooth loss may occur.
Anyone who wishes to celebrate Self-Improvement Month by learning more about the minimally invasive alternative to gum grafting should visit Dr. Schwartz's website. She provides important information regarding PST™ as well as other dental procedures. Those with additional questions are encouraged to contact her office. Dr. Schwartz is currently accepting new patients and is happy to set up appointments for consultations.
About the Doctor
Healthy Smiles Dentistry is a general practice offering personalized dental care for patients in Scottsdale, AZ. Dr. Alison P. Schwartz uses state-of-the-art dental technologies to ensure patients receive the best care. Dr. Schwartz is a leader in the adult orthodontic treatment of Invisalign. She has also been featured on numerous television stations as one of the few dentists in Arizona to treat gum disease with Perio Protect, an FDA cleared medical device to treat and reverse gingivitis and periodontal disease. Dr. Schwartz is a member of numerous dental associations, including the American Dental Association, the American Academy of Computerized Dentistry and the Arizona State Dental Association. To learn more about Healthy Smiles Dentistry and their dental services visit their website at http://www.healthysmilesdentistry.com/ or call (480) 448-2669.