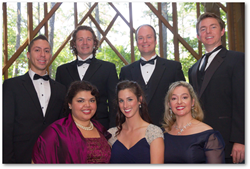 Little Rock, AR (PRWEB) September 12, 2014
On Sept. 13 and 14, The Muses will celebrate fall's arrival with the first two "Opera Classics" concerts, as part of its Four Seasons in Art and Song Subscription Series. These concerts mark the beginning of "The Muses Opera Week" tour.
The tour includes a fabulous visit to the Governor's Mansion in Little Rock on Sept. 16 for a fundraising dinner and concert honoring Governor Beebe, then back to Little Rock schools on Sept. 17 for educational outreach, on to Texarkana Sept. 18, and ending back in Hot Springs on Sept. 19 for the seventh Annual Opera Gala presentation, "Sing to Love", at Muses Cultural Arts Center, 428 Orange St.
"Opera Classics" will play twice in Hot Springs at 6 p.m. Saturday, Sept. 13 and at 3 p.m. Sunday, Sept. 14 at the Muses Cultural Arts Center. These concerts will feature The Muses Gala Performance Troupe, talented professional singers and musicians from around the country performing some of their favorite arias, duets and ensemble pieces from some of the world's greatest operas: "Carmen," "La Traviata," "La Boheme," "Rigoletto," "The Merry Widow," and of course, "much Mozart," including "The Marriage of Figaro," "Don Giovanni" and "Magic Flute." Being an opera lover isn't necessary to enjoy this fast-paced and entertaining presentation.
The week's closing Gala, "Sing to Love," will consist of an entirely different set of spectacular musical surprises, including additional instrumentation, an expanded opera chorus, and ballet dancers. The Hot Springs Gala serves as a fundraiser for the Muses Cultural Arts Center, and will include a V.I.P. pre-show (6 p.m.) wine reception for ticket holders.
These concerts, and these fantastic young performers, have been credited with creating full-blown "opera fans" from audience members with no previous opera experience (or inclination to ever have any). They are guaranteed to thrill the aficionado who lives for the next spinning high note and graceful cadenza. Strong handsome baritones, virile young tenors, striking sopranos and gifted pianists take the stage to share their talents and passions with the audience.
In the words of Muses General Director and classically-trained soprano, Deleen Davidson, opera is "the Olympics of vocal performance." This is a concert not to be missed in the most elegant setting for musical excellence and artistic wonders - the acoustically excellent and visually intimate Muses Cultural Arts Center.
The cost for "Opera Classics" is $25, and tickets for "Sing to Love" are $75 and $150. Please purchase tickets early, as several of last year's concerts were sold out well in advance. For more information about the 2014 season, contact The Muses at 501-609-9811 or online at http://www.themusesproject.org
Support for Muses Creative Artistry Project is provided, in part, by the Arkansas Arts Council, an agency of the Department of Arkansas Heritage, and the National Endowment for the Arts.
<br>About the company:<br>The Muses Creative Artistry Project is a 501(c)(3) non-profit arts organization dedicated to preserving classical art and music through performance and education. They believe that classical artistic education and high-quality cultural experiences through live performance are crucial to a well-rounded and healthy community. Each year, The Muses presents a series of concert events aligned with the four seasons, and performed at various regional venues. Fine art, music, and spoken word are presented at each program, representing different artistic disciplines and styles. Various seminars and workshops allow participants to experience creative renewal and deeper understanding of their own need for artistic expression and balance in their lives. This blending of fine art, classical music and creativity education can have profound effects on the participants and in the community at large.