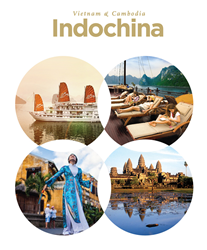 We are excited to levy the same care and creativity to our Indochina programs." - April Tsao, CEO
S. El Monte, CA (PRWEB) September 16, 2014
Leading Japan tour operator Super Value Tours announced the launch of their 2015 Indochina Tours on their website on September 4th. The revamped tours still include clients' favorite experiences such as taking motorized carts through Hanoi's old quarter and an overnight cruise on Halong Bay's Paradise Cruise ship. Added activities include canoeing along the Mekong River to Thoi Son Island where clients will have the opportunity taste local tropical fruits.
If guests choose, they may also include a journey to Angkor Wat, and witness sunrise, daylight and sunset views. "Given our excellent reputation with Japan tours, we are excited to levy the same care and creativity to our Indochina programs. Both tours embody what our company is about: top quality tours at fair prices," said CEO April Tsao. The 10 Day Vietnam and 12 Day Vietnam & Angor Wat will begin departing in January 2015.
About Super Value Tours
Super Value Tours is a luxury tour operator providing luxury, all inclusive tours to Japan and Vietnam+ Angkor Wat. Luxurious and atmospheric hotel accommodations, exclusive services, expert guides, rare culinary experiences and complimentary travel insurance are included on all packages. Super Value Tours has also been named the #1 Tour Operator by volume to Japan. For more details, visit SuperValueTours.com or call 877-388-1777.