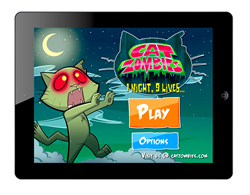 A fast-action swatting game for humans, and for cats!
Austin, Texas (PRWEB) September 15, 2014
The $85,000 to be raised in the Kickstarter campaign will fund the development of the game, which is designed to be played on the iPad by both humans and cats! The game will have simple, engaging gameplay that will test you and your cat's reflexes as each of you swipe and swat at the fast moving zombies.
Eric Dorris, Cat Zombies' creator stated, "We want to merge the popularity of cats and zombies into a game that's enjoyable for both humans and for cats. We believe there is a world-wide audience and we are making Cat Zombies for all ages…and breeds!"
The game is being collaboratively developed by Cat Videos, LLC and Powerhouse Animation Studios, Inc.
About Powerhouse Animation Studios:
Powerhouse Animation Studios is an Austin, Texas based creative agency that produces work for a variety of industries including TV, film, video games and advertising. With offices in Austin, Texas and Burbank, California, Powerhouse Animation Studios employs skilled designers, storyboard artists, post effects experts, videographers, animators, and voice talent. Powerhouse is reported to have the most talented, hard-working, and imaginative staff in the free world. (http://www.powerhouseanimation.com)
About Cat Videos, LLC:
(CATVIDEOS.com) is an Austin, Texas based company founded by Eric Dorris that is capturing an audience driven by the popularity of Cat Videos on the Internet. CATVIDEOS.com streams originally produced videos and user uploaded videos of cats and kittens playing and being cute. And we all know that you cannot argue with cute. The website also plays videos about cats, videos for cats, offers free personal profiles and video uploads for any guest or member (even dog owners!). Cat Videos also has an iPhone App that is available on the Apple App store which makes it easy for users to capture their cat and upload video directly to their Cat Videos profile.
(http://www.catvideos.com)
All donors to the Cat Zombies Kickstarter campaign are invited to visit https://www.kickstarter.com/projects/catzombies/cat-zombies-one-nightnine-lives or (http://www.catzombies.com). Donations to the campaign will be used for development and testing of the Cat Zombies game, and will entitle the donors to receive really cool stuff as more fully described on the Kickstarter campaign.
For more information please contact:
Eric Dorris
512-576-8617
eric@catvideos.com