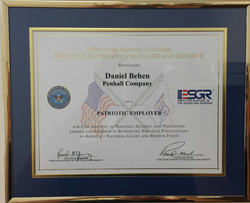 Office of the Secretary of Defense EMPLOYER SUPPORT OF THE GUARD AND RESERVE
Anaheim, CA (PRWEB) September 17, 2014
Penhall Company, the market leader in concrete services, is proud to share the Patriotic Award from the Department of the Defense. Penhall Company has a long history of supporting and providing career opportunities for Veterans and encouraging service to the National Guard and Reserve Force.
Daniel Behen Manager of Penhall Company's Atlanta, Georgia division was a recipient of this respected award.
Ken Moses, Penhall Company's Vice President and Chief Human Resources Officer, describes Penhall Company's commitment to this cause "The experience, discipline and focus of these men and women are valuable, yet this generation of veterans has unemployment rates nearly double the national average. We have found that Veterans apply their remarkable skill set—leadership, grace under pressure and teamwork under the most complex circumstances. When you consider those assets I can't think of anyone better to get the job done here at Penhall Company. We proudly support and employ veterans because it not only adds value to our company, but it allows us to give back to this great country."
For more information about employment opportunities at Penhall Company please visit http://www.penhall.com/careers/
About Penhall Company
Founded in 1957, Penhall Company is a market leader in concrete demolition, cutting, sawing, drilling, breaking, scanning and related concrete construction services. Serving customers nationwide with the newest fleet and equipment available, Penhall continually invests in emerging specialty technologies and capabilities. Spanning 41 locations in 18 states and Canada, Penhall employs 1,300 professionals who are dedicated to meticulously maintaining equipment and upholding the safest working environment.
For more information regarding this release, please contact:
Elizabeth Wilson
Penhall Company
http://www.penhall.com
(714) 578-3203