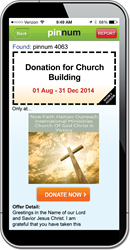 Great companies don't just win new customers, they bring them back for more.
Las Vegas, NV (PRWEB) September 15, 2014
With online donations to America's ministries and nonprofits growing at a far faster pace than any other platform, the company pinnum announced a new mobile app specifically for churches and ministries.
"Churches and ministries know that it's getting harder and harder to have a stable flow of donations, and are looking online as a way to grow their donation base," according to Mr. John Giaimo, CEO of pinnum. "The statistics really bear this out, as over half of all Americans use their smartphones as their primary source for going online. The pinnum for churches app gives a ministry a way to generate online donations with no development costs or revenue sharing," Mr. Giaimo explained.
Online giving rose 14 percent since 2012 according to a new study by M+R and the Nonprofit Technology Network, with 2013 representing the best year ever.
With the pinnum for churches app, a church or other nonprofit is assigned a special number, or pinnum, which allows members and potential donors to donate with a single "donate now" button. It will also show their location on a map, using geo-social technology to quickly move a church into the mobile environment in a matter of days.
The app is versatile as it may be used to support separate and special ministries such as mission trips, homeless programs, foreign missions and scholarships. Funds raised are deposited into the church's bank account in only two business days.
The app is available for the Apple and Android platforms at no cost, providing a way to reach out to the community while generating additional exposure outside of the church membership.
An added family safety benefit is included in the pinnum app. Each user has the ability to create a private family group that can show their current location on a map. Adding family members is easy, and knowing their whereabouts provides a safety net and real peace of mind.
There is overwhelming knowledge that a church or ministry can benefit greatly by getting into mobile, but often times they don't know where to begin or can't spend thousands of dollars on custom development. The pinnum for churches app makes it fast, easy and affordable.
For more information, please visit http://www.pinnumForChurches.com
Contact John Giaimo
Tel 714.528.3779
Email John(at)pinnum(dot)com