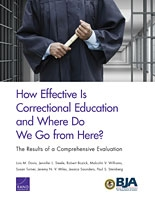 Upper Montclair, NJ (PRWEB) September 18, 2014
During a recent Correctional Education Association conference in Arlington, Virginia, Dr. Lois Davis presented findings of a MetaStudy being published by the Rand Corporation, http:// "How Effective is Correctional Education, and Where Do We Go from Here?" Dr. Davis and a team of fellow researchers reviewed studies on what makes a difference in educating juvenile justice students. Out of 157 research manuscripts, Rand highlights two interventions. One improved student performance in reading. The other reported large improvements in graduation rates using New Century software in Avon Park, Florida.
"We are very pleased to see that others are seriously reviewing research on Juvenile Justice education and realizing the difference that New Century software makes with these students." said Jim Griffin, President of New Century Education.
The particular study reviewed by Rand Corporation was entitled "In Search of Evidence-Based Practices in Juvenile Corrections: An Evaluation of Florida's Avon Park Youth Academy and STREET Smart Program," published by the National Council on Crime and Delinquency in 2009. In the study, 349 juvenile justice students were randomly assigned to Avon Park Youth Academy, where they used New Century software for 30 to 45 minutes per day in addition to teacher led instruction, while 345 control students were assigned to other residential juvenile justice programs in the state and received the normal educational instruction mandated by the state and supplied by the local school district within the residential facility.
The results of the study demonstrated that 49.1% of the experimental students earned a diploma using New Century software while at Avon Park, versus only 22.0% of the control students earned a diploma while at their respective residential facilities.
Adds Mr. Griffin, "The manager of Avon Park is G4S, and we are proud to work with G4S and its teachers to help improve graduation rates."
New Century Education Foundation
Phone: (866) 326-1133
Anita at Asaberon(at)newcenturyeducation(dot)org
New Century is a not-for-profit publisher that delivers educational software uniquely designed to help teachers succeed with At-Risk, Special Needs and Adult Students. New Century's Intelligent Tutoring System is scientifically based and research validated.