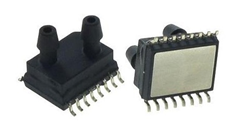 The SM9541 Series can be customized for various pressure & temperature ranges, supply voltages and individual addressing.
Milpitas, California (PRWEB) September 18, 2014
SMI (Silicon Microstructures, Inc.) introduces the SM9541 MEMS low pressure sensor Series designed especially for cost sensitive applications that need very high accuracy. The unique gage and differential offering allows for optimal signal resolution and diagnostics capability. The 14-Bit resolution and 1% accuracy provide the user high performance while the 0.2% full-scale offset stability per year provides the reliability and long-term reliability needed for critical applications. Available in low pressure ranges of 10, 20, 40, and 100 cm∙H2O (0.14, 0.3, 0.6, and 1.4 PSI). The SM9541 stands to revolutionize the low pressure sensor market with an I2C digital interface coupled with the highest accuracy and stability in the industry. Custom solutions are available for custom pressure and temperature ranges.
At the heart of the SM9541 is the MEMS pressure transducer with SMI's novel and proprietary silicon technology platform. With SMI's technology, the user can attain the highest level of accuracy with long-term high performance as demanded of the stringent medical industry. Mating with the MEMS pressure sensor is a state-of-the-art signal-conditioning IC providing full pressure calibration and temperature compensation with a user-friendly I2C digital interface. The pressure sensor housing is based on surface mount technology standards and features an industry standard JEDEC compliant SOIC-16 footprint for straight-forward PCB design and assembly. Design engineers will appreciate the design flexibility and repeatability of the SM9541 Series. Fully qualified and in production, the SM9541 is ready for design-in and user qualification.
APPLICATIONS

Sleep Apnea (CPAP, MPAP)
Ventilators/Anesthesia Equipment
Oxygenators
Spirometers
HVAC
Pressure Transmitters
Air flow measurement
Respiratory equipment
FEATURES

Compensated Temperature Range: -5 to +65C
Accuracy: ±1% FS
I2C Digital Interface
14-bit Resolution
Voltage Supply: 3.3 Volts
Complies with RoHS and REACH requirements
"We are very excited to debut the SM9541 Series to the Medical and Industrial markets. Our new MEMS sensor technology is the culmination of our low pressure expertise and we expect it will impress designer engineers," said David Kertes, Vice-President of Sales at SMI.