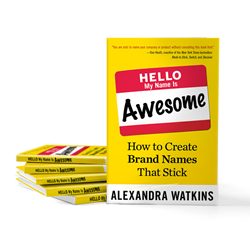 Watkins shares her best practices through her SMILE & SCRATCH test, a 12-point checklist for what makes a name good, and what makes a name unapproachable.
San Francisco, California (PRWEB) September 15, 2014
A new creativity book by brand name expert Alexandra Watkins, published by San Francisco based Berrett-Koehler, consolidates 10 years of Watkins' professional knowledge into the first-ever how-to guide to creating powerful brand names.
Watkins shares her best practices through her SMILE & SCRATCH test, a 12-point checklist for what makes a name good, and what makes a name unapproachable. She generously offers tips and strategies for finding an available domain name, creative brainstorming, and building group consensus. Her insightful process and proprietary "Naming Brief," previously only available to clients of Watkins' firm, Eat My Words, can help anyone, even non-creative types, come up with memorable brand names that stick. Jam-packed with up-to-date advice (including making sure Siri and voice recognition technology can easily understand your name), this entertaining and insightful book is surprisingly breezy and can be devoured in far less time than most people spend trying to come up with a name on their own.
What comprises a name that passes Watkins' SMILE and SCRATCH checklist?
Good names make you smile. A great name is Suggestive, evoking a positive brand experience. It's Meaningful – your customers "get it." Effective names include Imagery, visually evocative to aid in memory. And the best names have Legs, lending themselves to extended mileage and are Emotional, moving people to action.
On the other hand, ineffective names make you scratch your head. They're Spelling-challenged, looking like a typo or with a strange phonetic spelling that is impossible to remember. When companies brand with names similar to competitor names, they are failing the second part of the scratch test: Copycat. Restrictive names limit future growth while Annoying names frustrate customers. Tame names are flat and uninspired while names the Curse of Knowledge makes names "foreign" to everyone but insiders. Hard-to-Pronounce names make it difficult for people to ask for or talk about your brand.
How important is a brand name? Critically so, says Watkins. A bad name can weaken your brand. "Every time you have to help people spell, pronounce, and understand your name, you are essentially apologizing for it, which devalues your brand."
Watkins' groundbreaking guide will prevent brands and companies from making potentially damaging naming decisions. The book is already being adopted into business school curriculums and writing programs at Stanford and UCLA. And Library Journal gave it a starred review, calling Watkins' advice "surprisingly solid," declaring it useful for anyone "naming something more important than a family pet."
Watkins started her career as a copywriter at ad agency powerhouse Ogilvy and Mather. She became a namer when she discovered that traditional naming firms use Latin and linguistics, rather than consumer-friendly concepts, to come up with names. Now, she gets paid up to $50,000 a pop to create brand names for new products and companies. She is the self-made founder of Eat My Words (http://www.eatmywords.com), a San Francisco naming firm that specializes in creating names that make people smile instead of scratch their heads. Some of her successes include the robotic vacuum Neato, frozen yogurt franchise Spoon Me, and the Church of Cupcakes. Her clients include Disney, Microsoft, Wrigley, Frito-Lay, Fujitsu and other branding firms who put their good names on her great names. Watkins is also the author of, "Hello, My Name Is Awesome... How To Create Brand Names That Stick." For more information, visit her website by clicking here.