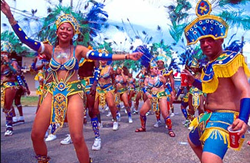 I don't think anyone would have predicted how far Belize would have come in the thirty-three years since independence.
San Ignacio, Belize (PRWEB) September 15, 2014
Belize's September celebrations are now underway in the lead up to Independence Day on September 21st. Featuring the most important events on the national calendar, this year's festivities are set to be the biggest yet, according to the Lodge at Chaa Creek.
Lucy Fleming, who with her husband Mick opened their family farm to guests to become Belize's first eco-resort just as the former British crown colony achieved independence in September 1981, said the growth of the celebrations reflect Belize's own remarkable development.
"I don't think anyone would have predicted how far Belize would have come in the thirty-three years since independence. In 1981 the economy was still agrarian based, with British military personnel more visible than tourists.
"Today, with the economy driven by eco-tourism, the standard of living is much higher, with more opportunities for people. Belize has also become a model for environmental sustainability, has a lively music and arts culture and plays a growing role in the region," she said.
Ms Fleming said that the September celebrations, which include St George's Caye Day on the 10th, and Independence Day on the 21st reflect a growing confidence and sophistication in today's Belize.
While Belize is a relatively new independent nation, its colourful history goes back thousands of years.
Early Maya settlements established centuries before the birth of Christ grew into some of the most advanced cities in the ancient world, with over 100,000 inhabitants living in carefully planned, thriving metropolises. To this day the tallest buildings in Belize are the ancient Maya temples at Xunantunich and Caracol, which at its peak boasted a larger population than present day Belize City.
The Maya civilisation was in decline by the time the Spanish Conquistadors arrived in the early 1500s, but the first real European settlers were the "Baymen", a mostly English, motley and adventurous group that eked out a living cutting timber from vast rainforests.
The Belize of that time was also a port of call for pirates, whose knowledge of the Belize Great Barrier Reef was essential in helping them avoid capture and hide their loot.
By the late 1700s the settlement had established its own identity, with the Baymen and African slaves creating a mixed race population known as Creoles. When they fought "shoulder to shoulder" to defeat a vastly superior Spanish invasion force on September 10th at St Georges' Caye in 1798, that identity solidified into an enduring patriotism.
The Garifuna arrived in 1832 as another distinct ethnic group that became an integral part of the Belizean national character. Comprised of the indigenous Arawak inhabitants of St Vincent's Island and African slaves who were shipwrecked off its coast, the Garifuna had been exiled by the British to the Mosquito Coast where, refusing to succumb to the harsh conditions, they established villages along the coasts of what became Belize, Honduras, Guatemala and Nicaragua, preserving their own distinct culture and language while occupying positions as teachers, police and public servants in the colonial days.
Adding to Belize's unique cultural makeup were American Civil War veterans, German speaking Mennonites seeking religious freedom and a range of Lebanese, East Indian, European, North American, Asian and other immigrants.
"Belize is truly a melting pot, but has also forged a unique national identity and a distinct presence on the world scene. You get a real feeling of that during September," Ms Fleming said.
Each year a national competition is held to select a September Celebrations theme, which for 2014 is "Industrious Hands, Intelligent Minds, Together for Belize."
"That sums it up nicely," Ms Fleming said, "Belize's growth as one of the world's most acclaimed eco-tourism destinations is a direct result of hard work and fresh ideas. The Belizean eco-tourism industry was started by grassroots, mom and pop type family businesses. There wasn't a lot of money around in 1981, but plenty of enthusiasm and ideas that put Belize on the map very quickly.
"A commitment to environmental sustainability and responsible travel struck a chord with travellers from around the world, and I think that continues to make Belize stand out today.
"I also think the Baymen would be proud. The reef where they fought the Battle of St George's Caye 216 years ago still looks just the same, and we're all working to keep it that way."
Ms Fleming said she believes that, as word continues to spread, the Belizean Independence celebrations will become more internationally recognised.
"Where else can you see such an eclectic mix of people from different backgrounds working together so harmoniously towards a common goal? And, especially during September, having a great time doing it?
"We like to think that little Belize is an example that multiculturalism really does work, and that is something to celebrate," Ms Fleming said.
ENDS