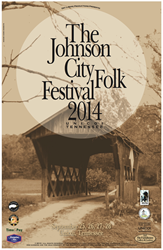 The most original, stand-alone, knock-your-socks-off Music Festival to come along in many, many years...! US Festival News
Unicoi, Tennessee (PRWEB) September 16, 2014
The Johnson City Folk Festival is for music lovers, and for folks who like Ghost Stories, Stephen King and John Carpenter. This is the best news to come along in years.
The Johnson City/Buffalo Valley Folk Festival is featuring a full compliment of remarkable musical acts again this year, and this includes bands, music ensembles, solo artists, cigarbox singers and players and some new additions like Asheville's MSG Cyclocross... and The Jonesborough Storyteller's Guild this year. A full compliment of the best Tennessee Storytellers hold forth in Jacob's Hollar in a blizzard of magical storytelling in an even more remarkable setting.
Jacob's Hollar is a natural amphitheatre, created by a forest-circled "bowl" on the side of Buffalo Mountain - a depression surrounded by 100ft. trees on all sides with a stage in the center. Festival goers will be able to walk up from the Main Stages or take a hayride up the Mountain to this magnificent natural theatre.
The schedule calls for stories presented "in-the-round" with 3-4 storytellers on the small stage telling their stories in sequence. Then, after 45min-60min of stories, a few of the best of the Festival's singers and writers will take the stage and entertain the hundreds of fans and festival goers seated around the "bowl".
Emmett Carlisle, Tim Avram, Abby Parks are just some of the remarkably talented singers and writers who will be featured on the Storyteller's Stage. Many performers appear on multiple stages and this interaction between the best storytellers in the land and a remarkable array of talented singers and writers will be... fantastic.
Lighting and staging for the Jacob's Hollar Storytelling Series will be handled by Eric Stillions. Eric comes to The Festival from his home in Hollywood, CA where he is a full-time lighting and set designer and holds the coveted Local 728 card. Eric was responsible of the dramatic lighting on "Breaking Bad" as well as countless indie films and commercials. Mr. Stillions comes to The Festival from New Orleans after 5 months in the model shop on the set of "Terminator 5".
Saturday night, at the witching hour, the stories turn to Ghost Stories, chilling stories of Mayhem, Murder, Malfeasance and Rambunctiousness... all told amid 100 foot tall trees high up the Buffalo Mountain, in the dark... where no one can help you... in the dark!
Outstanding solo acts are Emma Nelson, Scotty Melton, Dulcie Ellenberger, Abby Parks and Pierce Edens plus local musical loose-cannons Cornbred and Fish Fisher. For a complete list of performers visit The Johnson City Folk Festival website.
The Johnson City Folk Festival has joined with The Buffalo Valley Folk Festival this year and both Festivals will gradually blend together to form The Buffalo Valley Folk Festival. Beer and Wine, as well as Moonshine, will be available to Festival attendees as well as a full compliment of breads, granola bars, Farmhouse BBQ and lunch and dinner delights all prepared, smoked and baked on site at The Peacock Cafe.
Tickets are $10 per day and may be purchased online by going to The Johnson City Folk Festival website; and camping is available as well at $10 per night. You can find additional information on the Tennessee Tourism Website or call the Festival directly at 202-255-1995.
Advance tickets can be purchased online at: https://www.eventbrite.com/e/johnson-city-folk-festival-in-unicoi-tickets-11294675679?ref=estw