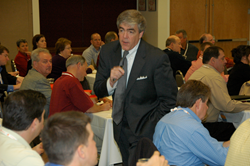 Dirk Beveridge charges into the up till now neglected topic of innovation and the future of wholesale distribution. He is on a mission to create a new spirit of innovation throughout this massive industry.
Chicago, IL (PRWEB) September 15, 2014
Leaders within wholesale distribution are too consumed by the tyranny of the urgent to confront a new reality - distribution as they know it is dead. In his new book, INNOVATE! How Successful Distributors Lead Change In Disruptive Times available today, Dirk Beveridge charges into the up till now neglected topic of innovation and the future of wholesale distribution.
The $5 Trillion wholesale distribution industry, which is comprised of 300,000 businesses and employs 1 in 20 private sector workers, is facing a perfect storm of mass disruption. 85% of distributors believe that they must reinvent their business before someone else does. Disruptive competitors such as AmazonSupply, new government regulations, shifting demographics, the accelerating pace of technology, and other disruptive forces are converging at unprecedented rates on this traditionally slow to change industry.
Navigating these big shifts to reinvent their business has become the new mandate for every leader in distribution. "With all the disruptive and constant pressures from all directions," Dan Blaylock, CEO of distribution company Adams-Burch asks, "how do we create a sustainable and relevant business?" The core of this reinvention process according to Beveridge is innovation.
Beveridge identified that innovation was bypassing this massive industry and in 2012 - making a bet on these mostly family owned 300,000 businesses - produced UnleashWD, the first innovation summit for wholesaler-distributors and their supply chain partners, the third annual being held in Chicago, October 29-30, 2014. "The solutions to the disruptive forces and the big opportunities distributors face, won't be found in the distribution industry," Beveridge says. "The innovation that is needed will require lifting ideas from other industries and shifting them into distribution."
This Lift and Shift™ mindset is at the core of both the UnleashWD Summit and the lessons throughout Beveridge's just released book INNOVATE!. With UnleashWD and INNOVATE! Beveridge is on a mission to catalyze change and innovation throughout distribution.
72% of distributors Beveridge surveyed believe the pace of change is too slow in their business. His summit features 17 storytellers over two days - all of them from outside the distribution industry. "If we are going to create a new spirit of innovation," Beveridge says, "we need to inject new thinking into the industry."
INNOVATE! is another first for the industry. The book which has been called "indispensable" and a "must read" by industry CEO's provides a model of The Innovative Distributor™ by integrating lessons from within distribution as well as other industry's ranging from agriculture robotics, eCommerce, LED lighting, Silicon Valley startups, and others.
"Being a leader of today's distribution businesses isn't just about managing for today's results. It's about motivating and innovating to get the most out of your people and the rapidly changing landscape," observes L.T. Gibson, CEO of US LBM Holdings which consists of 13 leading building materials distributors. "INNOVATE! is a must read for anyone who wants to remain or become an effective leader in our industry."
As part of today's launch of INNOVATE! Beveridge has partnered with tED Magazine and will explore the book's content with tED publisher Scott Costa during thirty minute webinars at 3:00 PM CT Monday through Friday this week. You can register for these webinars here.
About Dirk Beveridge
Dirk Beveridge noticed that innovation was bypassing distributors and founded UnleashWD in 2012 to set a bold new agenda for the over 300,000 distributors in North America.
His new book INNOVATE! How Successful Distributors Lead In Disruptive Times
will be published on September 15, 2014, by the NAW Institute for Distribution Excellence.
As one of the country's most outstanding speakers, Beveridge delivers a new voice, a new energy, and a new outlook. For more information visit http://www.dirkbeveridge.com
He is available for press interviews, corporate speaking, and consulting. To contact Beveridge, call 847-381-7797 or email info@unleashwd.com.
About UnleashWD
Founded in 2012, UnleashWD is the first and only conference dedicated to bringing innovation to the wholesale distribution industry. This year's October 29-30 summit will feature 17 innovators and leaders including Gary Shapiro, President and CEO, Consumer Electronics Association, Jay Rogers, CEO & Co-Founder of Local Motors, and Andrew Berlin, Chairman and CEO, Berlin Packaging and owner of the South Bend Silver Hawks. Visit http://www.Unleashwd.com for updates on the summit and other resources such as webinars, eBooks, and other valuable information on how to innovate.