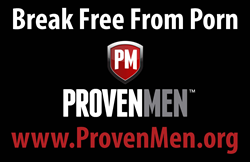 Lynchburg, VA (PRWEB) September 18, 2014
Results from a 2014 survey of 1,000 American Adults has just been released and it reveals that pornography is an addiction causing men and women to risk employment and also harms marriages. The findings are based upon a multi-faceted survey by Proven Men Ministries (http://www.ProvenMen.org) and conducted by Barna Group among a nationally representative sample of 1,000 U.S. adults nationwide. The newly-released survey included numerous questions focusing upon the frequency of use of pornography, whether the person believed they were addicted to porn, and what they were willing to risk in order to keep viewing porn.
First, the study gathered current data pertaining to the amount of time people spend viewing pornography. For instance, one part of the survey showed that nearly 8 in 10 (79%) men ages 18-30 view porn at least once a month, nearly 3 in 10 (29%) view porn daily, and nearly 1 in 10 (9%) view porn multiple times a day. "The frequency of viewing porn is a good indicator that porn is addicting," according to Joel Hesch, who sponsored the survey and is the founder of Proven Men Ministries and has been leading support groups for 15 years helping men break free from porn. "When porn pulls you into its cradle on a daily basis, it's a red flag that it is an addiction."
Second, another part of the survey asked participants if they think they view porn too frequently. Over one-half (54%) of men ages 18-30 said they should view less porn. "Yet, despite having a concern or conviction that they should limit the frequency of viewing porn, many are still continuing to view porn at levels exceeding their own comfort," says Hesch. "When you want to stop, but can't seem to escape its grip, you know porn is more than simply a problem."
Third, the participants in the survey were directly asked if they felt that they were addicted to porn. Nearly one-quarter (23%) of men ages 18-30 believed they were addicted and another 10% were unsure if they were addicted. Hesch concludes, "It's quite telling when a person admits they are addicted to porn. Certainly, a person's own belief that they are addicted should be given significant weight to whether pornography is addicting."
Fourth, because addiction is often defined as continued use despite its harm, the survey also focused on what risks people take to keep viewing pornography. Specifically, the survey asked how often people view porn at work. Hesch states, "Because most companies have a zero tolerance policy for looking at porn at work, i.e. if you get caught looking at porn at work you get fired, viewing porn at work is a significant risk of harm. Yet, over one-half (52%) of men age 18-30 admit to risking their careers and livelihood by viewing porn at work within the past 3 months." The numbers are even higher for men ages 31-49, with nearly three-fourths (74%) watching porn at work. In addition, 14% of men ages 18-30 and 20% of men ages 31-49 admitted that they viewed porn more than 10 times at work in the past 90 days. Hesch asks, "If you're not addicted to porn, why would you risk your job by viewing it at work more than 10 times?" Hesch continues, "When a compulsion causes you ignore such high risks, it's an addiction."
Fifth, evidence that porn is an addiction is also found in the fact that some people risk harming their marriages by using it over the objection of their spouse. Specifically, a porn addict will risk harming a marriage in multiple ways. For instance, the survey suggests there might be a correlation between pornography and extra-marital affairs. For instance, 40% of married men watch porn at least several times a month and 35% of married men have sexual affairs. Similarly, 22% of married women view porn at least several times a month and 17% of married women have sexual affairs. In addition, the survey showed that twice as many married men have affairs as married women, which corresponds with the stat that twice as many married men watching porn as married women. Hesch concludes, "It should be little surprise that the more frequently a married person looks at porn, which is often a form of sexually fantasizing about someone other than their spouse, the more likely they are at acting upon their fantasy through a sexual affair."
Porn also harms marriages anytime one spouse objects to porn use, but the other spouse continues viewing it. In that setting, it causes a rift. According to Hesch, "Let's be honest, at its core, pornography is all about sexual fantasy where a spouse wishes they had something—someone—else, even if it's only in their mind."
In this setting, Hesch continues, "Pornography leads to emotional or physical affairs because it fosters three things that destroy true intimacy with a spouse: secrets, seclusion and self-focus."
"First, secrets kill relationships. In the context of objections by one spouse, pornography becomes a solo-activity fueled by sexual fantasies and therefore fosters keeping secrets. In fact, this spouse must desperately try to keep their porn use a secret because of the conflict it will cause.
Second, in order to keep returning to porn, the spouse must go to great lengths to isolate parts of their lives from their spouse. They build up walls and refuse to be open and honest, which is the opposite to being a soul mate and trusted marriage partner. This isolation creeps into other areas of their lives as well and keeps a spouse from opening up aspects of their lives to anyone.
Third, the continued practice of secretly pursuing porn and its associated fantasies feeds a self-focused life. What we have found in common with men addicted to porn is that they have conditioned themselves to be selfish and demanding in many areas of their lives and it's strangling their marriages. It's this same self-focus that leads to affairs because it's often just a matter of time before they think they deserve to have sex with someone else or otherwise act upon one of their many sexual fantasies fueled by porn."
Hesch concludes, "This new survey brings to light what millions of people who can't stop looking at porn already know first-hand: pornography can be an addiction that affects a person's job, marriage, family, and self-respect. For them, it's not a matter of simply trying harder to win the battle on their own." In fact, Hesch adds, "Being unable to control pornography viewing is like having a boa constrictor wrapped around your throat. It's not merely a bad habit that you wish would go away, but something that slowly suffocates the life out of you."
Proven Men Ministries is a non-profit organization dedicated to doing something about porn addiction. With a goal of helping 1 million men break free from the strangle hold of pornography, it has developed a 12-week system to help men overcome pornography, including a 12-week course of study, a leadership guide and a book on sexual integrity—all available on Amazon. Its website also has other free resources.
The full survey results can be found at: http://www.ProvenMen.org/2014PornSurvey
Contact for Proven Men Ministries:
Joel Hesch, President and Founder
434.592.4251
Joel(at)ProvenMen(dot)org