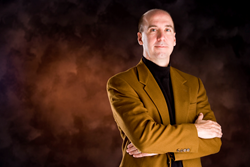 Banking leaders need to become what I call "Exponential Executives." Jumping the curve as banking interactions evolve with technological advances.
Minneapolis, MN (PRWEB) September 16, 2014
On September 16th Jack Uldrich, Global Futurist and Best Selling Author, will be addressing AgBank's District CFO Meeting in Minneapolis, MN. Uldrich will be discussing the "10 Things We Should Be Thinking About."
When it comes to finance Uldrich says, "Banking executives need to become what I call 'Exponential Executives.' That is, leaders who understand that as impressive as past technological advances have been—the ATM, online banking, and mobile banking, etc.,—they are just the beginning.
Banking interactions will continue to evolve as customers' physical and virtual worlds become intertwined, and social networks and mobile platforms will transform customers' banking experiences and expectations. Still other advances will create an environment where a premium is placed on unconventional thinking and risk-taking."
A highly acclaimed futurist and trend expert, Uldrich has spoken all over the world to a variety of industries and organizations. Among the topics and trends Uldrich will discuss with AgBank audience members are precision agriculture, prescriptive planting, 3D manufacturing, wearable technology, robotics, the "Internet of Things," genomics, nanotechnology, peer-to-peer lending, collaborative consumption and "Big Data."
Uldrich has delivered presentations to such notable clients as Verizon Wireless, the AMA, PepsiCo, Bausch and Lomb, United Healthcare, as well as hundreds of Agricultural Groups all over the world including Novozymes, Land O'Lakes, Ag Gateway, FS Agronomy, Canada's Agricultural Adaptation Council, the California Ag Summit, and the 2014 PMA, among others. His writings include "The Next Big Thing is Really Small: How Nanotechnology Will Change the Future of Your Business" and "Into the Unknown: Leadership Lessons from Lewis & Clark's Daring Westward Expedition."
Parties interested in learning more about Jack Uldrich, his books, his daily blog or his speaking availability are encouraged to visit his website. Media wishing to know more about the event or interviewing Jack can contact Amy Tomczyk at (651) 343.0660.
Jack Uldrich is a renowned global futurist, technology forecaster, best-selling author, and editor of the monthly newsletter, The Exponential Executive.