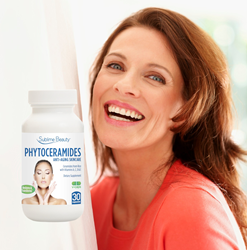 During the aging process, the skin produces less ceramides and hyaluronic acid, and both are important for important moisture functions of skin.
St. Petersburg, FL (PRWEB) September 15, 2014
Skin becomes dryer with age. Some of this can be from external factors like sun damage and not moisturizing properly. However, there are inevitable internal factors that will cause drying even if skin has been cared for.
Two main reasons this occurs:
1) Loss of ceramides in the skin
2) Loss of hyaluronic acid in the skin
During the aging process, skin produces less ceramides and hyaluronic acid, and both of these are responsible for important moisture retention and radiance of skin. Hyaluronic acid can hold 1,000 times it weight in water, and ceramides are essential in skin barrier protection and moisture.
Collagen production slows starting in the 30s and with less collagen each year, skin will wrinkle, sag and thin. Hyaluronic acid and ceramides both protect collagen, and so smaller amounts of collagen are getting less protection.
WHAT TO DO?
** Phytoceramides are a natural vitamin-fortied supplement to take daily. They use natural plant-based ceramides (identical to our own) to replenish the supply in the skin. After a month of taking one capsule daily, skin will become softer, thicker and more radiant with less lines and wrinkles.
** Hyaluronic Serum will help to topically add moisture-retention to the skin functions for healthier and more beautiful skin.
These two Sublime Beauty® products are available at the company webstore with the links above, or on Amazon with discount coupons now.
Receive a 30% discount with purchase of 2 or more Phytoceramide bottles with coupon code P2DTLZV3 on Amazon.
Receive a 39% off the Hyaluronic Serum with coupon code RH5AJJ84 on Amazon. The serum also includes aloe, Beta-carotene and chamomille for beautiful skin care.
The Sublime Beauty® founder, Kathy Heshelow, wrote a short book about Phytoceramides to help inform about this new subject. It is found on Amazon.
ABOUT: Sublime Beauty® is a quality skincare company that focuses on products to "Age Younger". Ingredients help to boost collagen, hydrate, relax wrinkles and improve skin. A niche includes healthy Skin Brushes. The company webstore offers free standard shipping and a VIP Club. Sign up for Secret Sales on the site. Products also available on Amazon.