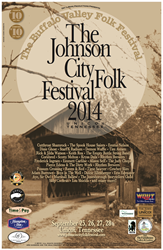 Hands down the best 4 day festival in the TriCities! And a standout value at $10 a day...Tom Breshlin, US Festival News
Unicoi, Tennessee (PRWEB) September 17, 2014
The Johnson City Folk Festival is right around the corner.
And Opening Night is packed with great acts and stellar solo performers. This is a perfect night to walk the grounds, enjoy the spectacular setting and take a tour of the grounds - Jacob's Hollar, The Meadow Stage and Buffalo Creek - before the crowds of Friday and Saturday!
The Festival Roster for Opening Night features two full bands on The Meadow Stage - The Judy Chops from Charlottesville and Time Sawyer from Charlotte, NC. The Pavilion Stage features solo acts from Wilmington, NC and Local Favorite Son Kryss Dula.
Mr. Dula has been playing music in the Johnson City area for a number of years and is a well respected fixture on the local scene. He is also a full-time faculty member at Eastern Tennessee State University.
Friday features The Jonesborough Storytellers Program and stellar Alt Country Stars Dixieghost from Knoxville.
Beverage Services will feature 12 Craft beers provided by Holston Distributors and most camping spots will be filling up by Friday afternoon. There may be additional spaces available at the South Meadow, directly ahead as Festival goers come over the Covered Bridge.
The Johnson City Folk Festival has joined with The Buffalo Valley Folk Festival this year and both Festivals will gradually blend together to form The Buffalo Valley Folk Festival. Beer and Wine, as well as Moonshine, will be available to Festival attendees as well as a full compliment of breads, granola bars, Farmhouse BBQ and lunch and dinner delights all prepared, smoked and baked on site at The Peacock Cafe.
Tickets are $10 per day and may be purchased online by going to The Johnson City Folk Festival website; and camping is available as well at $10 per night. Additional information can be found on the Tennessee Tourism Website or call the Festival directly at 202-255-1995.
Advance tickets can be purchased online at: https://www.eventbrite.com/e/johnson-city-folk-festival-in-unicoi-tickets-11294675679?ref=estw