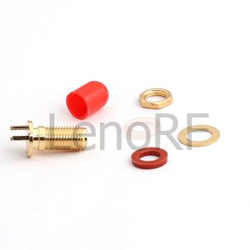 (PRWEB) September 15, 2014
LenoRF, a reliable electrical accessory manufacturer, has been serving worldwide distributors for several years; it has various kinds of high quality items for sale. Recently, the company has happily released its new selection of SMA Connectors Edge Mount For PCB. Moreover, all its new products are provided at discounted prices, up to 30% off.
In LenoRF, product quality lies at the heart of all business. The company applies a strict quality control system from sourcing to delivery. Before starting to make the new items, the company's experienced experts communicated with a lot of industry leaders.
Here is some detailed information about the company's cheap SMA Connectors Edge Mount For PCB:
Product Description
*Impedance:50 ohms
*Frequency Range: DC-18GHz (semi-rigid cable)
*DC-12.4GHz (flexible cable)
*Mating: .250-36 threaded coupling
*Durability: 100 cycles minimum
*Body and outer contacts: Brass, nickel or gold plated
*Male Contact: Brass, Gold plated
*Female Contact: Beryllium copper or phosphor bronze, gold plated
*Crimp ferrule: Copper or brass, nickel plated
*Insulator: LCP,PTFE or PFA
The sales representative of the company says, "We are very excited to announce our fresh connectors. As is known to most distributors, our products are popular in the global market. Thus, I believe our new items can sell well at home and abroad. At the moment, we have plenty of useful electrical accessories for sale. Everyone is welcomed to visit our website. By the way, the current special offer will be valid until September 30, 2014."
About LenoRF
LenoRF is an online supplier of high end electrical equipment. It is a China based company that aims to provide customers with high quality products at the lowest possible prices. Customers can try the company's products through sample orders with a long-term contract. Most customers come back soon after receiving their first deals.
More details about the company's useful products can be found at http://www.coaxial-connector.com/product/sma-connectors-edge-mount-for-pcb/.