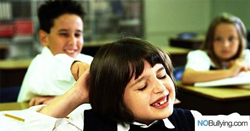 Learning disabilities are a fact of life for many children and teens and even adults. The pressure of being bullied shouldn't also be part of the equation for them.
London, UK (PRWEB) September 17, 2014
By definition, bullying can be described as the expression of aggressive behavior towards others with the intent of purposely causing them harm. The harm is doubled when it comes to bullying children with special needs. NoBullying releases today an article on bullying children with special needs.
A special needs child could be suffering from birth defects or simply one of the common learning disabilities. Although no child is totally exempt from bullying, the prospect of bullying greatly increases when a child has special needs. According to the article, 60% of disabled students reported that they were being bullied on a regular basis as opposed to 25% of students without disabilities.
Students suffering from physical disorders such as cerebral palsy, spina bifida, muscular dystrophy or hemiplagia (partial paralysis of the body) are often persecuted by their peers due to the obvious differences in appearance. Slow learners and those suffering from autism or Attention Deficit Disorder (ADD) are often picked on for what other students perceive to be lack of intelligence. Even students with minor disabilities such as diabetes and obesity draw undue criticism from the wrong crowd and suffer verbal or physical abuse.
One of the learning disabilities that children see at school and don't know how to deal with, which brings on the bullying, is Dyslexia which is a learning disorder that hinders children from learning essential language skills such as reading, writing, spelling and communication.
Another famous learning disability is Dyscalculia is a group of learning disabilities related to math. People with dyscalculia have trouble understanding mathematical concepts and performing mathematical calculations. Dyscalculia is sometimes referred to as "math dyslexia."
Other common learning disabilities are Dysgraphia (affects the motor and information processing skills for writing) and Dyspraxia which is a an umbrella term that refers to people who have problems in carrying out motor actions in the right order daily.It is also worth noting that more children these days are suffering from is Aphasia which is a neurological disorder that makes communicating through language extremely difficult. Sufferers have trouble speaking, reading, writing, and understanding what other people are saying.
A simpler way to define learning disabilities is looking at the different categories in which a child can be having difficulty. The main categories are auditory processing, logic, attention, processing speed, visual processing, working memory and long term memory.
Ciaran Connolly, Co Founder of NoBullying says "Learning disabilities are a fact of life for many children and teens and even adults. The pressure of being bullied shouldn't also be part of the equation for them."
He added that parents and teachers should make a point to educate the younger generations about the sad outcome of bullying online and offline. According to Connolly, it is quite imperative to press for more firm laws condemning all acts of bullying and harassment.
NoBullying.com features many pages dedicated to parents, teens, teachers, health professionals as well as posts related to cyber safety and the latest news about law making concerning curbing Bullying worldwide as well as inspirational Bullying Poems and famous Bullying Quotes.
The website regularly updates its bullying statistics and cyber bullying statistics as it is essential to understand how widespread the bullying epidemic is. It also regularly runs cyber bullying surveys and questionnaires to get recent updated statistics on everything related to cyberbullying.
He also added that anyone suffering from bullying in any form or way can always find advice and help on the NoBullying website – but if anyone is suffering from severe bullying or cyber bullying, the best thing is to talk to someone locally – a parent, teacher or local organization that has been set up to help with specialized councilors to deal with this topic.