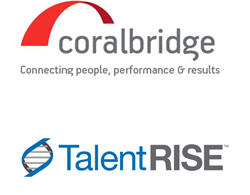 This program is a very cost-effective 'insurance policy' to mitigate the expense of executives who aren't productive quickly enough or leave the company early.
Chicago, IL (PRWEB) September 16, 2014
TalentRISE, an executive search firm, and CoralBridge, a consultancy specializing in employee engagement, today announced the launch of a unique fast-track program to help organizations mitigate the risks associated with executive-level hires in their first 100 days. The comprehensive coaching program shortens start-up time, accelerates learning and improves productivity for new executives during the first crucial weeks after accepting a new position. Since data shows that nearly half of new leaders fail in their first eighteen months, often because of critical mistakes made shortly after having been hired, TalentRISE and CoralBridge have formed an alliance to offer one-on-one coaching to new hires placed through TalentRISE's executive search practice whose partners include Julie Melvin, Brad Newpoff and J. James O'Malley.
CoralBridge's team of highly experienced coaches will work with the new executive throughout the individual's first 100 days on the job. "Our objective is to complement the hiring organization's existing orientation/acculturation program, not replace it," said Jeff Husserl, Managing Principal at CoralBridge. "The goals for the new hire include understanding the organization's objectives, adapting to the new culture, uncovering hidden social norms and learning how to effectively manage both up and down in the organization. Ultimately, we're intent on improving organizational health by accelerating productivity and putting the executive on the fast track to success."
J. James O'Malley, Partner at TalentRISE, stressed the uniqueness of this program and added, "While some search firms claim to do this, few really offer the caliber of professional coaching that our alliance with CoralBridge brings to the table. In-house onboarding programs, even the outstanding ones, seldom provide the one-on-one professional, unbiased and confidential advice that is proven to benefit new hires at the senior level. We think of this program, which we're offering at no additional charge, as a very cost-effective 'insurance policy' to mitigate the expense of executives who aren't productive quickly enough or leave the company early."
The coaching program is grounded in the stages of assimilation and delivered by highly experienced coaches, unbiased by organizational politics. Operating with as much information as possible about the new hire's professional objectives, the coaches tailor the program to the individual's, and organization's, needs. By accelerating the new executive's productivity, the coaching program maximizes the success of the new hire while minimizing retention risk.
About TalentRISE:
A management consultancy focused on talent acquisition, TalentRISE offers retained search, on-demand recruitment solutions and management consulting to help growing companies gain competitive advantage through talent.
About CoralBridge:
CoralBridge makes the link among Leadership, Team Performance and Constructive Conflict Management. We understand that these critical human capital challenges drive employee engagement and impact business results. Our team offers a unique combination of business, legal and dispute resolution expertise.