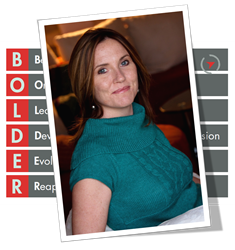 Leaders are people who normally declare possible what other people do not. This is precisely what makes them leaders- Rafael Echeverria, PH.D.
RALEIGH, NC (PRWEB) October 11, 2014
Colleen Slaughter, Career Coach, Consultant, and owner of Authentic Leadership International, has announced a new group coaching program, "BOLDER® Moves to Gaining a Seat at the Table." This six-week teleseminar coaching program for businesswomen, which will launch on October 14, 2014, is focused on inspiring and empowering female leaders to build the confidence, clarity, and structure to make BOLDER® moves to reach higher levels of fulfillment and success in today's competitive business environment.
The coaching program is appropriate for any business woman who can benefit from learning insider tips on making bold moves and getting her seat at the table, increasing her visibility and influence in the work place.
Key objectives in this program:

How to become more aware of the ways in which you may stand in your own way
What is required to achieve your professional goals
Learn, and master, the practices for expanding and deepening your visibility at work
How to cultivate powerful and lasting business relationships
Learn to Boldly and proudly self-promote
Gain and maintain your own seat at the table
Colleen Slaughter holds multiple degrees in business and coaching; she works with people both in the U.S. and abroad. Colleen has a proven track record of helping her clients achieve lasting change by helping them to identify, connect and ultimately act on their core values. Throughout Colleen's time consulting, coaching and speaking in the corporate world, she has developed a real passion for helping women succeed in their careers and in life. Too many women are still stuck trying to break through that proverbial "glass ceiling" – whether outside themselves or in their own inner world - and it's time all women had the tools to be rewarded for their hard work.
Find out more about the entire program at: http://boldermoves.com/bolder-group