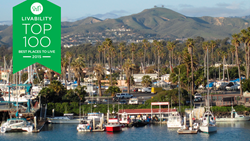 "This is a great time for America's small to mid-sized cities that are trying to lure the huge Millennial generation of potential home-buyers. Creating a livable community is key to attracting businesses and movers, as well as for retaining residents."
(PRWEB) September 15, 2014
Livability.com has just released its second-annual Top 100 Best Places to Live list. This edition features a new city atop the list, which is the culmination of months of exclusive research into what factors most influence the livability of America's small to mid-sized cities. More than 30 states are represented, from coast to coast.
Livability editors have broad experience studying and writing about the factors that make a city a great place to live and work. But we wanted other perspectives as well. So Livability once again partnered with the research team at the Martin Prosperity Institute. The Institute, directed by Richard Florida, is part of the Rotman School of Management at the University of Toronto and is the leading think-tank on the role of location, place and city-regions in global economic prosperity.
"Any of these cities would be a great place to live," says Matt Carmichael, Livability's editor. "This is a great time for America's small to mid-sized cities that are trying to lure the huge Millennial generation of potential home-buyers. Creating a livable community is key to attracting businesses and movers, as well as for retaining residents."
More than 2,000 cities were evaluated in this landmark study. More than 40 data points were analyzed, and then grouped into eight categories – economics, housing, amenities, infrastructure, demographics, social and civic capital, education and health care. The eight scores were weighted based on an exclusive survey conducted for Livability.com by Ipsos Public Affairs, a leading global market research firm. Respondents were asked about factors that make their communities better places to live, as well as the factors they would consider in selecting another city. Every city with a population between 20,000 and 350,000 was considered. Sources included the best public and private data available from organizations like the U.S. Census Bureau, Walk Score, GreatSchools.com and Esri.
The research team was supported by an advisory board of the leading academics, authors, policy makers and practitioners in the places space.
"The cities at the top of the list were often home to a major institution like a university, hospital or state capital," says Matt Carmichael, Livability's editor. "Institutions like that help these smaller cities compete in terms of sports, culture, jobs and entertainment."
The top 100 cities are featured on Livability.com, along with their LivScore and information about the qualities and amenities that helped them make the list.
About Livability.com:
Livability.com explores what makes small to mid-sized cities great places to live, work and visit. It examines issues related to livability such as walkability, cultural amenities, transportation, urban planning, and sustainability through exclusive research and discussions on our blog. We celebrate the accomplishments of these cities through monthly top 10 lists, an annual ranking of livable cities, rich photography and conversations with readers in social media. Livability.com is a division of Journal Communications, Inc.