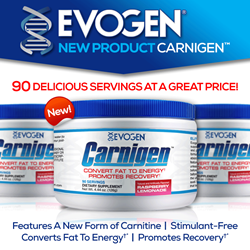 Hany explained, Evogen Nutrition is a growing brand, that is now in over 25 countries worldwide. I am excited about the release of my latest creation, Carnigen™, which utilizes four forms of Carnitine to help convert fat to energy and promote recovery.
Campbell, CA (PRWEB) September 16, 2014
Evogen Nutrition, a leader in sports nutrition and supplementation, will launch new Carnigen™, an elite energy and recovery catalyst, at the 50th Anniversary of Joe Weider's 2014 Olympia Expo, September 19-20, 2014 at the Las Vegas Convention Center.
Five of Hany Rambod's Team Evogen, FST-7 trained athletes will take to the prestigious Olympia stage during the weekend. Visitors can expect to see Team Evogen athletes in competition, including IFBB Champion Bodybuilder Steve Kuclo in the Mr. Olympia, Figure Pro Jessica Graham in the Figure Olympia, Bikini Pro Christie Marquez in the Bikini Olympia, and Men's Physique Pros Jeremy Buendia and Tory Woodward, in the Olympia Men's Physique Showdown.
"I can't wait for this year's Olympia! Five of Team Evogen's elite athletes have qualified for the 50th Anniversary of Joe Weider's Olympia Weekend, the industry's most prestigious event," said Hany Rambod, Founder/CEO. "I'm proud to have so many great athletes representing the Evogen Nutrition brand!"
Evogen Nutrition will give away free samples of new Carnigen and other products including promotional items at booth #615 with a special discount code to save money on products and merchandise. Customers will also have the opportunity to take photos and get free autographs from their favorite Team Evogen athletes. The company will also promote the Olympia experience through an unprecedented giveaway on Instagram http://www.instagram/evogennutrition, Facebook https://www.facebook.com/EvogenNutrition and Twitter http://www.twitter.com/evogennutrition.
Friday Athlete Appearance Schedule:
Torv Woodward- 10-11:30am
Jeremy Buendia- 11:30-1pm
Christie- after Bikini Olympia prejudging
Jessica- after Figure Olympia prejudging
Saturday Athlete Appearance Schedule:
Steve Kuclo- 10:30-12pm
Jessica Graham- 12-1:30pm
Christie Marquez- 11-5pm
Jeremy- after Men's Physique finals, approximately 2-4pm
Tory- after Men's Physique finals, approximately 2-4pm
The Olympia Weekend offers something for everyone. The Expo offers visitors an opportunity to interact with their favorites athletes as well as free samples from over 150 companies on display at the expo. Visitors at the 2014 Olympia Weekend will be treated to over 20 competitive events, including bodybuilding, strongman, powerlifting, grappling and much more. The Olympia competition will also be broadcasted on NBC Sports Network at a later date. For more information about the Olympia Weekend, visit http://www.mrolympia.com
About Evogen
Evogen Nutrition is headquartered in Campbell, California, and is a rapidly expanding, healthy lifestyle sports nutrition company that designs and creates a cutting-edge line of nutritional supplements. Founded and lead by world class trainer Hany Rambod, Evogen's elite products address all categories of an active lifestyle including muscle building, weight loss, and general fitness through a daily nutritional supplement regimen. The foundation of Evogen's nutritional protocols are based on the world famous FST-7 physique training system invented by Rambod. Evogen Nutrition is sold in over 25 countries worldwide, including Bodybuilding.com, GNC.com, and distributed by Europa Sports. For more information, please visit http://www.EvogenNutrition.com