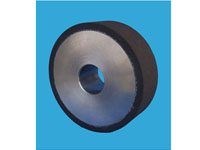 Zhengzhou, China (PRWEB) September 15, 2014
According to iAbrasive's latest news, recently, diamond grinding wheels and CBN grinding wheels have been widely used in the processing field. iAbrasive has made a comparison between diamond grinding wheels and CBN grinding wheels. (See the original article at: http://www.iabrasive.com/articles/diamond-grinding-wheel-vs-cbn-grinding-wheel-in-processing-field)
Seen from the abrasive grains, CBN is a chemical compound (boron nitride), and diamond is a simple substance (carbon).
Different Processing Objects
The diamond grinding wheel is mainly used to process hard materials, such as hard alloy, ceramics, and glass. The CBN grinding wheel is also used to process hard materials, especially ferrous metals, for example, all kinds of steel workpieces, cast iron, including automobile parts--bent axle, camshaft, hydraulic parts, compressor parts, etc.
CBN can stand high temperatures of 1250 to 1350 degrees centigrade. Its heat resistance is higher than that of the diamond; when a CBN grinding wheel grinds and cuts iron materials, it may not cause a chip sticking phenomenon. A CBN grinding wheel is the best choice for sensitive materials like hardened steel, high-vanadium and high-speed steel, aluminum high-speed steel, etc. But it cannot be a substitute for a diamond grinding wheel when grinding a hard alloy and non ferrous metals.
During the grinding process, a CBN grinding wheel can't be cooled by water-based coolant, but oil coolant is used instead because under high-temperature grinding conditions, CBN in alkaline solution can produce a chemical reaction; it will decompose in boiling water, and the crystal shape of the grinding grain will be damaged. In conclusion, the diamond grinding wheel and the CBN grinding wheel have their own advantages respectively. When choosing tools for the grinding process, one is supposed to choose the one that suits best, not the most expensive.
Author: Liwei Chu
Copyright: iAbrasive.com--Abrasives & Diamond Tools Market