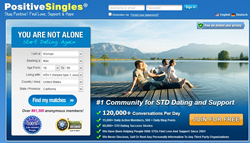 Los Angeles California (PRWEB) September 15, 2014
Recent news stories about hackers leaking nude photos of Hollywood celebrities have raised concerns for many people about the security of their data stored online. The recent leaks were related to hacked iCloud accounts, which many people use without realizing there are steps they should be taking to safeguard their privacy. The largest herpes dating site, PositiveSingles.com offers its members a two-pronged approach to keeping their privacy intact online.
PositiveSingles.com is a dating site created for people living with herpes, HIV or other STDs. Dating site security is even more important here than on other online dating sites, since these members care a great deal about protecting their privacy, and keeping their status hidden from the general public.
First of all, PositiveSingles.com is committed to ensuring maximum security and privacy for its members. Protecting its members is the top priority for the company, and they want to reassure all members that their data will be safe on this site. Members can remain anonymous as long as they want, and they are never required to submit any information they are not comfortable putting online. All data is locked safely inside the company's database servers, where it is protected from hackers and leaks.
Secondly, PositiveSingles.com, a dating site for herpes singles to find friends and match, wants to remind its members that there are steps to safeguard the information they put on iCloud or other cloud storage. Here are some tips to secure their privacy.
1. Do not store private photos on phone, on iCloud, or on any other cloud drive. Also, be aware that if these personal photos are sent to anyone else, it increases risks because they may not keep those photos secure.
2. Be sure to use a complex password, with a combination of letters, numbers, or symbols. Never use something easy to guess like your birthday.
3. Change passwords regularly.
4. Clear the cookies on browsers every two or three days.
5. Install anti-virus and anti-Trojan software on computer.
6. Also install anti-virus and anti-Trojan apps on Android or iOS devices.
About PositiveSingles
PositiveSingles.com is the world's largest online dating site catering to people dating with herpes and other STDs. Members use the site to find dates and meet new friends. This site provides members with a warm, supportive community, and has helped people with STDs to find love for over 13 years. Members can create a free anonymous profile, and member data is never sold, rented or disclosed.