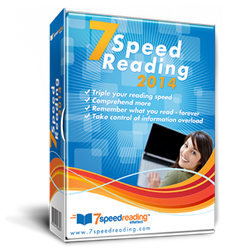 ...a competent speed reader can be equally proficient in both digital and paper-based reading.
New York, NY (PRWEB) September 17, 2014
Both soft- and hard-copy books have their fair share of ardent proponents. While the discussion continues about whether one medium is better than the other, there are some undeniable differentiating factors that can help people decide which reading process is most suited to their reading style and needs. eReflect presents three of these factors in their newest post at the blog of their popular speed reading program, 7 Speed Reading™. In this article, the editors look at the advantages and disadvantages of paper-based and digital reading, to help people make an informed decision that will benefit their reading habits.
The popularity of digital reading is a widely accepted truth. People love reading on e-readers and tablets because it's mobile, light, and more discrete than using a print book. But apart from making life a bit easier and streamlined, digital reading differs in more substantial ways from paper-based reading.
eReflect notes that different cognitive mechanisms are at work when people read on screens rather than on paper. Due to the more touch-focused aspect of paper reading, the reading experience is enhanced by the tactile stimuli related to the feel of the printed page, and the physical action of turning pages.
Digital reading lacks this immediate tactile sense of the pages turning, and the process of reading using a computer screen or ereader therefore tends to become more automated and less focused, as eReflect points out. This is a claim scientists have confirmed in recent studies; it explains why reading comprehension is higher when the person is reading paper-based text rather than text on digital monitors.
When reading on screens, attention shifts from words and concepts to scrolling, swiping, and pressing keys to adjust the page as reading processes. This may shift the reader's attention from the plot or argument to the more technical mechanisms of reading, ultimately compromising reading comprehension.
7 Speed Reading™, one of the best speed reading programs on the market, helps people improve their reading speed and comprehension so that readers can maintain high levels of both, no matter which medium they choose to read in.
Even though speed reading courses take place in a digital environment, a competent speed reader can be equally proficient in both digital and paper-based reading. Speed reading is a transferable skill, eReflect reassures its readers.
Another differentiating factor between soft-format and hard-copy reading is the sense of control the reader experiences when reading. Paper-based reading grants the reader more control over the cognitive process; being in the position to physically and cognitively manipulate a page is easier with a hard copy than it is with a digital copy of the same book. eReflect concludes that while each person's tastes and needs ultimately define which reading medium is the best, readers need to keep all of these factors in mind when making their decision on a case by case basis.
For more information about the benefits of using 7 Speed Reading, please visit the official website at http://www.7speedreading.com.
About 7 Speed Reading™
7 Speed Reading is the only modern speed reading software that uses the latest technology to produce superior results.
The software provides its users with a new way to master speed reading that guarantees three times the reading speed along with improved memory and comprehension.
The software is poised as the most comprehensive speed reading system anywhere. It contains seven learning strategies, fifteen software activities, video training, advanced tracking capabilities and many more exciting features.