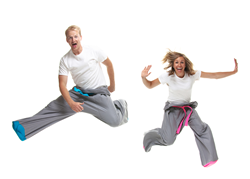 Sakpants is currently running a Kickstarter campaign which Brit + Co called "one of the best Kickstarter campaigns ever."
Salt Lake City, Utah (PRWEB) September 15, 2014
A new, hilarious-looking cozy-wear product, Sakpants, is taking snugglers and cozy-seekers by storm this year.
Modeled after Thai fishermen pants (with added built-in 'footies'), Sakpants have been described by some as an 'adult half-onesie' and are the brainchild of Garred Lentz, a Salt Lake City-based entrepreneur.
"Growing up in the land of ski resorts and freezing-cold winters, I was constantly trying to wrap my feet in my sweatpants to stay warm when I was hanging around the house," Lentz said. "That's when I decided to take matters into my own hands."
Together with his childhood friend, Designer Brayden Iwasaki, they created what they claim are the coziest pants in the world.
"The built-in footies trap heat, and coupled with the soft, lightweight fabric of the pants, combine to create the perfect cozy temperature during those cold winter months," Iwasaki said. "Socks compress feet, isolating them from your legs and making them colder, and slippers are always getting lost. We feel like we've designed a better alternative that everyone will love."
"The footies even have a secret slot in case you need to pop your foot out," Lentz added, "and the felt soles allow for superior dance moves on your kitchen floor."
Iwasaki produced an initial line of prototypes and tested them on people of all ages, shapes and sizes.
"Everyone who wore them went crazy for them, and anyone who saw them immediately wanted to try them on," said Lentz. "I think the fun look of them is what initially catches people's attention, and once they try them on, they never want to take them off. We knew we had something good on our hands so we decided to run with it."
Lentz and Iwasaki are currently running a Kickstarter campaign in hopes of funding a more substantial run of the pants. To view the campaign (which was selected as a Staff Pick and has been featured on Brit + Co as "one of the best Kickstarter projects ever"), click here. For more information about Sakpants in general or to view variations of the Sakpants Dance, visit their website at http://www.sakpants.com. If you're interested in trying a pair of Sakpants, contact Garred Lentz directly at garredlentz@gmail.com.