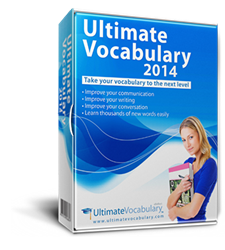 When a company decides to help their social media specialists improve vocabulary they are taking a vital step toward creating quality user engagement...
New York City, NY (PRWEB) September 19, 2014
eReflect, developer of Ultimate Vocabulary™, devotes the new blog post on the Ultimate Vocabulary™ website to a concept that brands and companies can use to improve their visibility and appeal on social media, especially Twitter. As the Ultimate Vocabulary™ editors report, consumers no longer mindlessly follow the few brands they used to see on television or in magazines. Today consumers are taking an active role in product marketing: they're engaging with companies, and often leading a conversation and demanding feedback from brands, requiring companies to respond and carry on a conversation.
As a vocabulary software developer, eReflect knows the importance of words. They know that brands that engage with their followers in meaningful and useful ways have a better chance of converting a follower into a paying customer. Brands and companies need to use social media to positively influence a consumer's opinion about a brand. This is a foolproof way to establish a brand identity that's media savvy, responsive, agile, and most of all, friendly.
Brands that engage strategically on Twitter not only increase their followers, but they also have a higher percentage of those followers actually becoming brand ambassadors and clients of the brand.
eReflect encourages brand and business owners to engage with their followers on Twitter and on other social media platforms, but to make sure they are doing it in a non-condescending, non-preachy way.
Followers don't like brands that are looking down on them or are trying to sell them their products all the time. They are engaging with brands they can trust, get supported by, and feel they can identify with in terms of culture, values, and priorities.
Anyone on social media needs to have a verbal advantage. Brands that know how to use the power of words to intrigue and pique their followers' attention are the ones that get the most engagement, as several brand engagement success stories have shown.
When a company decides to help their social media specialists improve vocabulary they are taking a vital step toward creating quality user engagement, an eReflect spokesperson emphasized today. Apart from a strong vocabulary, any social media strategy needs to have a thorough plan that's in line with their target demographic's lifestyle, beliefs, and needs.
***********
For more information on how you can benefit from Ultimate Vocabulary, please visit its official website, http://www.ultimatevocabulary.com.
About Ultimate Vocabulary™
Ultimate Vocabulary provides a proven and powerful platform, built to improve anyone's vocabulary.
The interactive self-improvement system provides more learning tools than any other program on the market, as well as more information on words.
The Ultimate Vocabulary software provides each and every user with a personal computer tutor. Providing a step-by-step guide to learning a powerful vocabulary, Ultimate Vocabulary is the learning tool everyone can benefit from.
Of course, the software is also backed by eReflect's iron-clad money back guarantee.