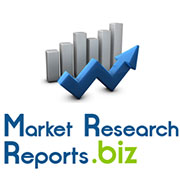 Latest publication On Global And China Stem Cell Industry Report, 2014-2017
Albany, NY (PRWEB) September 15, 2014
Stem cells are undifferentiated biological cells that can differentiate into specialized cells and can divide (through mitosis) to produce more stem cells. Stem cell therapy can be applied to treatment of cardiovascular diseases, leukemia (a kind of hematological system disease), nervous system diseases, damage or lesion of liver, kidney and other parenchymal organs, etc..
View Full Report at http://www.marketresearchreports.biz/analysis/223134
Currently, cord blood bank is the fastest-growing and relatively mature market amid stem cell upstream sectors and even the whole industry chain. In 2005, there were 23 cord blood banks worldwide and in 2013 the figure exceeded 480. Global cord blood stem cell (CBSC) storage companies can be roughly divided into two categories: the ones running in a globalized business model, such as Cryo-Cell International and Esperite (formerly known as Cryo-Save Group), and the others giving priority to regional operation e.g. Zhongyuan Union Stem Cell Bioengineering (VCANBIO), Golden Meditech and LifeCell International. However, the companies mainly engaged in cord blood bank business are currently small in scale, only a few with more than 500,000 clients.
Download Detail Report With Complete TOC at http://www.marketresearchreports.biz/sample/sample/223134
The stem cell technology and product research-oriented midstream sector is in its infancy, mostly concentrated in few countries like Europe, America and South Korea. At present, most companies in the industry chain are basically in the red for years running due to huge R&D costs. Nevertheless, attracted by the tremendous market potential in the area of stem cell therapy and enjoying the great encouragement from government policies (e.g. capital subsidy) and the capital support of significant cooperative partners, very few companies have dropped out.
Browse All Published Reports by Same Publisher at http://www.marketresearchreports.biz/publisher/67
Up to now, altogether 9 sorts of stem cell products have been approved worldwide, 3 of which are in the category of stem cell drugs developed by S. Korean companies, such as MEDIPOST's adult stem cell drug CARTISTEM for osteoarthritis treatment and the stem cell product Prochymal (MEDIPOST obtained the product via acquiring the Therapeutics business of Osiris Therapeutics) direct at treating children suffering acute graft-versus-host disease (GVHD).
In the meantime, traditional pharmaceutical giants like Novartis are setting about quickly accessing the field through mergers and acquisitions. On Aug. 19, 2014, Novartis reached an acquisition agreement with Gamida Cell (a corporate dedicated to stem cell technology R&D and its application in stem cell transplantation for leukemia patients), which specified that Novartis spend USD35 million in acquiring 15% equity in the latter and win the option to take over the remaining equity in two years with USD165 million; in Sep. 2013, Novartis also entered a cooperation with Regenerex to jointly develop the hematopoietic stem cell platform FCRx of the latter.
Related Reports
Regenerative Medicine Market (Bone And Joint) (By Technology - Stem Cell Therapy, Biomaterial And Tissue Engineering; By Applications - Bone Graft Substitutes, Osteoarticular Diseases, Allogeneic Products, Autogenic Products And Others) - Global Industry Analysis, Size, Share, Growth, Trends And Forecast, 2013 - 2019
View Full Report at http://www.marketresearchreports.biz/analysis/138710
U.S. National Institute of Health stated that regenerative medicine is the process of creating functional tissue to repair and replace tissue or organ which has lost their function due to damage, congenital defects, disease and age. Moreover, it has included stem cell therapy, tissue engineering and biomaterial under the umbrella of regenerative medicine. Regenerative medicine has wide areas of application such as cardiovascular, neurology, orthopedic and musculoskeletal diseases and disorders. The global market for regenerative medicine bone and joint application is dominated by various bone graft substitute in 2012. However, it is expected that tissue engineering will become a lucrative market in future. Factors such as growing geriatric population, favorable government support and increasing bone and joint reconstructive surgeries accentuate growth of the global regenerative medicine bone and joint application market.
Download Detail Report With Complete TOC at http://www.marketresearchreports.biz/sample/sample/138710
This research report explains various advancements occurring in this market and analyzes the global regenerative medicine (bone and joint) market by technology and application. The regenerative medicine bone and joint application market by technology is further segmented into stem cell therapy, biomaterials and tissue engineering. Likewise, on basis of application the global regenerative medicine (bone and joint) market is segmented as bone graft substitutes, osteoarticular diseases, allogenic bones, autogenic bone and others.
China Human Vaccine Industry Report, 2014-2017
View Full Report at http://www.marketresearchreports.biz/analysis/220447
Vaccines can prevent and control infectious diseases, so the demand for these biological products is relatively rigid. In 2013, China's human vaccine lot release volume grew by 4.9% from a year earlier, and the market size expanded 2.8% year on year. As vaccination is suspected of causing death and some companies (such as Shenzhen Kangtai, Tiantan Biological and Dalian Hissen) have to shut down the production of some products after failing to pass the new GMP certification, China's human vaccine market supply and demand may witness a slight decline in 2014, but it is still expected to grow steadily in the long run.
Download Detail Report With Complete TOC at http://www.marketresearchreports.biz/sample/sample/220447
Affected by China's economic level, national vaccine prevention policies and people's awareness, free EPI vaccines prevail in China with a share of approximately 80% in the total lot release volume. Also, the Chinese health authorities are trying to improve the quality of EPI vaccines. For example, Huizhou City of Guangdong province takes the lead to contain poliomyelitis inactivated vaccines into its immunization program (Sanofi Pasteur acts as a supplier in this program) for a trial in 2014. However, this program stipulates the injection of the poliomyelitis inactivated vaccine "IPV" for the first two vaccinations, while requires the oral administration of the poliomyelitis attenuated vaccine "OPV" for the third and fourth vaccinations.
China Blood Product Industry Report, 2014-2017
View Full Report at http://www.marketresearchreports.biz/analysis/211596
Plasma resource reserves and control are crucial to the development of blood products industry. Although the closure of 16 plasma collection stations in Guizhou in 2011 didn't cause major disruption to domestic blood products market, the total plasma volume in China blood products industry reduced by 2.8% year on year and total lot release volume declined by 7% from a year earlier in 2013, due to stock consumption, insufficient utilization of new plasma stations and production break of some companies (e.g. Guizhou Taibang Biological Products Co., Ltd and Guangdong Wellen Biological Pharmaceutical Co., Ltd. on account of upgrading and reconstruction, Shanghai RAAS Blood Products Co., Ltd. affected by floods).
Download Detail Report With Complete TOC at http://www.marketresearchreports.biz/sample/sample/211596
However, some niche varieties of blood products, such as scarce human coagulation factor VIII, maintained higher growth in lot release volume. In 2013, the human coagulation factor VIII produced by Shandong Taibang and CNBG Shanghai Institute of Biological Products were approved for release and came into the market, making the lot release volume of the product during the same period amount to 526,000 bottles, soaring by 44.5% on year-on-year basis.
About Us
Marketresearchreports.biz is the most comprehensive collection of market research reports. Marketresearchreports.biz services are especially designed to save time and money of our clients. We are a one stop solution for all your research needs, our main offerings are syndicated research reports, custom research, subscription access and consulting services. We serve all sizes and types of companies spanning across various industries.
Browse Blog at http://globalchinaindustry2014.blogspot.com/