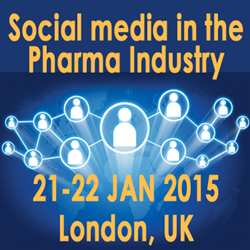 (PRWEB UK) 15 September 2014
As the pharmaceutical industry is advancing more and more companies are now taking to various mediums like mobile applications, internet and blogs to be socially visible. These channels help them to reach a wider mass and thereby interact not only with like-minded people, but also consumers. Social media provides the opportunity for patients to engage with doctors and vice versa; giving the opportunity for two-way conversation.
This year's event will explore topics such as regulatory insights, the consumer focused approach and mobile & website advances. Register now to join experts in the field and gain insight into this pertinent topic.
Book before September 30th and save £500
Why you should attend:

Hear case studies reflecting the accurate use of social media to scale the brand
Discover use of social media not only as a marketing strategy but also as a medium to serve the consumers
Learn about the regulatory aspect involved in the application of social media within the business environment
Key Speakers Include:

Lanre Bitoye, Global Digital Interaction Management Business Partner, Lundbeck A/S
Patricia Alves, Social Media Community Manager, Boehringer Ingelheim
Sorsha Roberts, Online Communications Officer, AKU Society
Dr. Graham Leask, Economics & Strategy Group, Aston University
Charles Lowe, President, Telemedicine &eHealth Section, Royal Society of Medicine
Alexandra Fulford, Consultant, ZS Associates
For more information please visit http://www.smi-online.co.uk/2015socialmediapharma77.asp
To register for this conference please contact Andrew Gibbons via +44 (0) 207 827 6165 or email agibbons@smi-online.co.uk