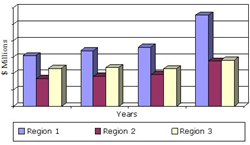 Global Market for Bioengineered Protein Drugs to Reach $222.7 Billion in 2019
(PRWEB) September 15, 2014
Wellesley, Mass., September 15, 2014 – BCC Research (http://www.bccresearch.com) reveals in its new report, GLOBAL MARKETS FOR BIOENGINEERED PROTEIN DRUGS, the global market for bioengineered protein drugs was valued at $151.9 billion in 2013 and is expected to reach about $157 billion in 2014. The market is further anticipated to grow to about $222.7 billion in 2019, with a compound annual growth rate (CAGR) of 7.2% from 2014 through 2019.
Bioengineered protein drugs have gained significant importance as a modern treatment due to the increase in number of chronic cases such as asthma and multiple sclerosis and diseases like cancer and diabetes. The industry itself has undergone vast clinical growth globally due to its pivotal role in creating effective targeted treatments to prevent a number of life-threatening diseases. The advancement of manufacturing technologies such as insect cell culture, cell-free bio-manufacturing, mammalian cell culture and use of genetically modified organisms (GMOs) has also fueled the global protein drug market.
The U.S. is leading the bioengineered protein drug market by registering $61.9 billion in 2012 and around $68 billion in 2013. The market is anticipated to be at $72 billion in 2014 and $111 billion by 2019, increasing at a CAGR of 9.1%.
Monoclonal antibodies are the largest segment in terms of revenues. The European markets have benefitted by the increase in monoclonal antibody, peptide hormones and blood products and also by therapeutic enzymes revenues. It had sales of about $36.5 billion in 2013. This could reach about $38.8 billion in 2014 and nearly $55.4 billion by 2019, surging at 7.4% CAGR.
"The use of monoclonal antibodies in therapeutics such as oncology, autoimmune and inflammatory diseases is expected to increase during the forecast period," says BCC Research biotechnology analyst, Shalini S. Dewan. "Insulin analogs, which are more efficient than the recombinant insulin, are also a contributing factor for market growth. Vaccines are another segment for the biopharmaceutical industry that is expected to grow due to the preventive measures against various diseases and public awareness."
GLOBAL MARKETS FOR BIOENGINEERED PROTEIN DRUGS explores the present and future strategies within the bioengineered protein drugs market. It analyzes each market and its applications, regulatory environment, and technologies. Market projections and market shares are estimated for the five-year period from 2014 through 2019.
Editors and reporters who wish to speak with the analyst should contact Steven Cumming at steven.cumming@bccresearch.com.
About BCC Research
BCC Research publishes market research reports that make organizations worldwide more profitable with intelligence that drives smart business decisions. These reports cover today's major industrial and technology sectors, including emerging markets. For more than 40 years, we have helped customers identify new market opportunities with accurate and reliable data and insight, including market sizing, forecasting, industry overviews, and identification of significant trends and key competitors. We partner with analysts who are experts in specific areas of industry and technology, providing unbiased measurements and assessments of global markets. Our clients include the top companies in industries around the world as well as universities, business schools, start-ups, consulting firms and investment companies. BCC Research is a unit of Eli Research LLC. Visit our website at http://www.bccresearch.com. Contact us: (+1) 781-489-7301 (U.S. Eastern Time), or E-mail information@bccresearch.com.
Data and analysis extracted from this press release must be accompanied by a statement identifying BCC Research LLC, 49-2 Walnut Park, Wellesley, MA 02481, Telephone: (+1) 781-489-7301; E-mail: editor@bccresearch.com as the source and publisher. Thank you.