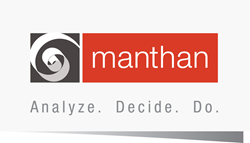 We have been pleased with the company's ability to grasp and propose a solution that is uniquely suited for our business requirements. - Mitchell Modell, CEO at Modell's Sporting Goods
Phoenix, AZ (PRWEB) September 30, 2014
Manthan, the global leader in business intelligence (BI) and analytics solutions for retailers, announced today Modell's Sporting Goods, the United States' oldest family-owned and operated retailer of sporting goods, active apparel, athletic footwear and fan gear has selected Manthan's analytics solution to provide critical retail insights across the enterprise.
The retail analytics solution to be deployed at Modell's is a combination of what Edgell Knowledge Network (EKN) recently classified in its 2014 State of the Industry Research Series: 3rd Annual Analytics in Retail Study as "emerging business analytics tools," such as data visualization, digital dashboards, and mobile business intelligence (BI), and "core business intelligence tools", such as enterprise data warehouse, OLAP and basic reporting and querying, and enterprise BI analytics tools. Findings presented in EKN Research's recent analytics research also revealed the current top features of a BI or analytics solution, namely, an easy-to-use interface and ease of integration with existing tools.
"For any type of analytics tool or solution, the user experience can define the success or failure of the incorporation of analytical insights in a retail organization," said Gaurav Pant, SVP of Research and Principal Analyst at EKN Research. "For best-in-class usability, the analytics tool must deliver an intuitive user interface including role-based dashboards and visualizations and mobile access to insights."
To deliver an improved analytics user experience for stakeholders at Modell's, the Manthan solution features mobile business intelligence, pre-built and role-relevant dashboards, and the integration of multiple data sources via a single platform. Interactive dashboards and data visualizations are available out-of-the-box, enabling executives and other business users to perform in-depth investigations by drilling down and drilling across real-time data on the fly. Modell's store managers, already accustomed to accessing operations information on-the-go via tablet devices, will be able to access store key performance indicators (KPIs) and perform ad hoc queries to diagnose potential areas for improvement. Most important, this retail analytics solution will provide the business with a "single version of the truth", by integrating data from numerous source systems, including point of sale (POS), merchandising, inventory and logistics applications.
Mitchell Modell, CEO at Modell's Sporting Goods, noted, "We are excited to enter into a new partnership with Manthan. We have been pleased with the company's ability to grasp and propose a solution that is uniquely suited for our business requirements."
"Leveraging a retail analytics platform like Manthan's will enable our team to achieve better efficiencies," said Charles Castaneda, Chief Merchandising Officer at Modell's Sporting Goods. "Having a single version of the truth with exception-based reporting and alerts will vastly improve the effectiveness of our decision-making process."
--------------------
About Manthan
Manthan serves as the Chief Analytics Officer for global consumer industries. Manthan's comprehensive portfolio of analytics products and services enable retailers and their supplier partners to understand and activate the customer's path-to-purchase journey. Architected with deep industry expertise, Manthan's solutions combine advanced predictive analytics, actionable insights and unmatched customer knowledge to help retailers identify and drive incremental growth opportunities. Manthan has provided its business-building analytics solutions to over 120 leading retail and CPG organizations across 19 countries. Visit Manthan at http://www.manthansystems.com.
--------------------
About Modell's Sporting Goods
Modell's Sporting Goods is America's oldest, family-owned and operated retailer of sporting goods, athletic footwear, active apparel and fan gear, committed to providing a convenient and compelling shopping experience for the athlete and fan in all of us. Founded in 1889 by Morris A. Modell, the first Modell's store was located on Cortlandt Street in lower Manhattan, NYC. Four generations of the Modell family have developed the family business into a chain of over 155 stores New York, New Jersey, Pennsylvania, Connecticut, Rhode Island, Massachusetts, New Hampshire, Delaware, Maryland, Virginia and the District of Columbia.