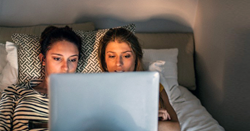 (It is essential to accept) the responsibility of being more aware of the lurking internet dangers out there.
London, UK (PRWEB) September 18, 2014
The internet has rapidly evolved in less than a decade, exploring a variety of social platforms and communication facets for individuals from around the world. However, with the increase in communication and connectivity, the internet has also become a breeding ground for online scammers, thieves, and even dangerous criminals. It is essential to learn about the sadly, way too many internet dangers with NoBullying's guide released today.
The many dangers of the internet include but not limited to: Cyber bullying, hacking, identity theft, phishing, catfishing, Stalking, Harassment, Online Dating scams and online predators.
Cyber bullying is one of the most prevalent online dangers known today. Cyber bullying ranges from including everything from posting mean and negative comments about an individual to virtually threatening someone or publicly shaming another.
While the other dangers are relatively easy to avoid or work around, another seemingly un-dangerous aspect of going online is watching porn. While it appears to some people as an innocent outlet for sexuality in a liberal world, watching online porn can make one addicted quite easily and with that addiction lives can subsequently be damaged.
Porn has grown into one of the largest forms of entertainment in the world. In fact, it brings in more money than professional basketball, baseball and football combined, not to mention has higher revenue compared to CBS, NBC and ABC combined as well. With this sort of power and money, it is able to reach every corner of the globe. Porn, in general, is not illegal, but there are forms of porn that are illegal and can bring about federal charges.
Even scarier than the ongoing threat of cyber bullying or becoming addicted to porn is the increasing likelihood of sexual predators being online at some of the sites where one's child spends their time. This is an even stronger reason as to why children must be warned to take precautions regarding talking or communicating with people they do not know. Parents need to enforce upon their child that any strange behavior must be reported to the parent first, and then parents will have to decide whether or not the behaviors warrant further action, such as reporting it to school or local law enforcement.
What proves most helpful when it comes to understanding internet dangers is enlisting the help and guidance of cyberbullying websites, such as NoBullying, where there are various helpful articles and guides on deal with all sorts of internet related issues.
Ciaran Connolly, Co Founder of NoBullying says, "The internet world is a world we heavily depend on and with that comes the responsibility of being more aware of the lurking internet dangers out there." He added that parents and teachers should make a point to educate the younger generations about the sad outcome of bullying online and offline. According to Connolly, it is quite imperative to press for more firm laws condemning all acts of bullying and harassment.
NoBullying.com features many pages dedicated to parents, teens, teachers, health professionals as well as posts related to cyber safety and the latest news about law making concerning curbing Bullying worldwide as well as inspirational Bullying Poems and famous Bullying Quotes.
The website regularly updates its bullying statistics and cyber bullying statistics as it is essential to understand how widespread the bullying epidemic is. It also regularly runs cyber bullying surveys and questionnaires to get recent updated statistics on everything related to cyberbullying.
He also added that anyone suffering from bullying in any form or way can always find advice and help on the NoBullying website – but if anyone is suffering from severe bullying or cyber bullying, the best thing is to talk to someone locally – a parent, teacher or local organization that has been set up to help with specialized councilors to deal with this topic.