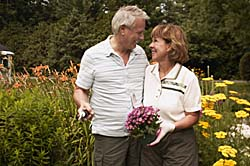 Palo Alto, CA (PRWEB) September 15, 2014
This year, Avenidas Village celebrates its seventh anniversary since its founding in 2007. To mark the special occasion, Avenidas Village would like to thank the local community for supporting the village and helping it to get started seven years ago.
Avenidas Village provides a safe, secure and fun community for seniors. Members of Avenidas Village maintain their independence, stay connected to the community and live in their own homes. They are able to have an active, independent lifestyle, while still getting the support and assistance they need or may need later on.
Launched in 2007, Avenidas Village was the first "Village" on the West Coast. The village is affiliated with the local, non-profit agency, Avenidas, which has been providing services for older adults since 1969.
When Avenidas Village was first launched, several members of the mid-Peninsula community believed in the program so much that they donated money towards some of the start-up costs. Today, the village would like to thank them for their generous gifts and continued support over the past seven years. See a full list of the village's founders at http://www.avenidas.org/village/community.
This October, Avenidas Village is proud to be celebrating their seventh anniversary and looks forward to sharing seven more years with its members and the community. For more information about Avenidas Village, call 650-289-5400 or visit their website.
About the company:
Avenidas Rose Kleiner Center is a program of the non-profit agency Avenidas. It seeks to create a community that supports and celebrates older adults and provides a wide range of support options, information and services that enable people to stay active, maintain their independence, help their aging parents or care for a spouse. Avenidas' innovative programs and compassionate staff help enrich the lives of more than 6,500 mature adults and their families each year. Avenidas serves the mid-Peninsula communities of Palo Alto, East Palo Alto, Stanford, Menlo Park, Los Altos, Los Altos Hills, Atherton, Portola Valley, Woodside and Mountain View. For more information, please visit http://www.avenidas.org.