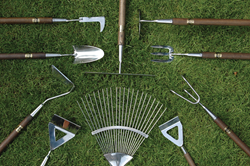 (PRWEB) October 02, 2014
Growe Industries is pleased to introduce the Joseph Bentley line of traditional garden tools to the U.S. market through a new distribution partnership with Solus Garden & Leisure, the UK's leading supplier of garden, leisure and home products. Joseph Bentley's comprehensive range of high quality hand tools is tailored to appeal to the most discerning and demanding of gardeners.
Established in 1895, the Joseph Bentley name has a well-earned reputation for quality. These tools are carefully constructed of high quality stainless steel and solid hardwood. With a lifetime guarantee and an attractive price point, Joseph Bentley traditional garden tools feature modern design and function while retaining a look of heritage and style. The range is inspired by years of experience and every tool comes with a high level specification, proven design and attention to detail as a standard.
Learn more about Joseph Bentley Traditional Garden Tools and download a product catalog at http://www.josephbentleyus.com.
For further information about Growe Industries and to download a new dealer application, please visit http://www.groweindustries.com.