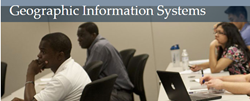 Rockville, MD (PRWEB) September 18, 2014
UMBC's Geographic Information Systems Graduate Program's Drop-In Information Session will be held on Wednesday, November 5th and Thursday, November 6, 2014, from 6 to 8 p.m. Visitors are welcomed to attend either night. You will have the opportunity to ask program staff and faculty questions about the GIS program's innovative curriculum and practice-oriented instruction, designed for working professionals.
If interested in attending, please RSVP online.
About UMBC's Geographic Information Systems Graduate Program
This two-year program captures the "Systems Side of GIS" by instructing students in the following areas: Advanced Analytical Methods and Tools, GIS Application Development, GIS Databases, Enterprise Systems Management and Reflection on Professional Practice
Within the field, technical skills, especially in computers, are becoming a prerequisite for entry into the profession. UMBC's GIS program focuses on the technical aspect of GIS and provides students with the knowledge, tools and techniques to appropriately address GIS requirements and answer spatial questions.