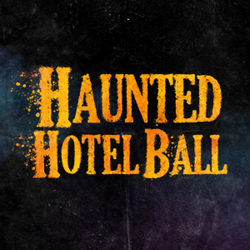 We are excited to extend Haunted Hotel Ball to a two-day Halloween party and for our new partnership with The Saguaro Scottsdale hotel.
Scottsdale, AZ (PRWEB) September 16, 2014
The most sultry, gruesome and creative Halloween costumes will be checking in to the Haunted Hotel Ball this year. The 7th annual Halloween party will haunt The Saguaro in Scottsdale and features three epic parties over a span of thirty hours including the Haunted Hotel Ball Opening Party, Masquerage Pool Party and Dia De Los Muertos Closing Party.
Haunted Hotel Ball's very own zombie innkeeper, Mr. Franklin Bates, with support from his signature staff of zombie go-go dancers, VIP French-maid hostesses and theatrical performers have taken care that every detail is addressed. In addition to transforming The Saguaro's lavish "Day-of-the-dead"-esque interior into a fantastical landscape of coffins, cobwebs, skeletons and every imaginable Halloween party accouterment, Haunted Hotel Ball promises to deliver multiple parties to "wake the living dead."
DJs Decipha, Tranzit and Slippe will be amongst the all-star line-up of over 20 Arizona DJs hitting the decks within Haunted Hotel Ball's three horrifying rooms. The Saguaro's Anchusa Ballroom will feature Top 40 music, Distrito will transform into an underground EDM dance club and Zocalo will host the best urban/hip-hop music.
Prior to the big Halloween party weekend, Haunted Hotel Ball will launch the Halloween Photo Costume Contest presented by Yandy.com, where contestants can share their best costumes from last year online for a chance to win VIP guest passes, hotel stays and other riveting prizes. Contest and voting start September 22nd.
Prepare for a marathon weekend of fantasy, fun and debauchery with up to 5,000 party-goers in Halloween costumes expected at the Phoenix area Halloween party. 3-Party VIP Passes go on sale on Monday, September 15th at 10am MST. Haunted Hotel Ball is waiving resort fees and offering a special discounted overnight rate of $139 plus tax at The Saguaro for party monsters looking to make it a staycation.
Haunted Hotel Ball takes place October 31 - November 1, 2014 at The Saguaro (4000 N Drinkwater Blvd, Scottsdale, AZ 85251). Visit HauntedHotelBall.com for tickets, VIP table reservations, group packages, hotel room accommodations or for more information about the Halloween party.
###