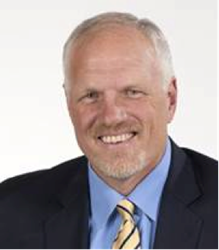 I have the privilege of sharing my experiences to help others improve their business
Nashville, TN (PRWEB) September 16, 2014
Accelerent Nashville, a national business development platform, is pleased to announce Mark Eaton as the speaker at their Signature Breakfast Event September 19th, 2014.
Mark is a business and motivational speaker who shares with organizations and audiences nationwide how he went from a 7'4" twenty-one year old mechanic who couldn't play basketball to a twelve-year career as an NBA All Star with the Utah Jazz. He was the Two-Time Defensive Player of the Year, breaking the record for most blocked shots in a single season in 1989.
After his career with the Jazz, Mark became a successful leader in the competitive world of business, helping others achieve their professional best. He has provided sports and outdoor opportunities to at-risk kids, hosted television shows and a nationally syndicated radio show, SportsHealth. More recently, Mark has opened two award winning restaurants and is the subject of a soon to be released feature film.
"I look forward to meeting with business leaders in the Nashville market," says Mark. "There are numerous industries represented at the event, and I have the privilege of sharing the experiences of my many ventures with them, all for the purpose of helping them improve their business."
Mark's high energy, action packed presentations reveal the philosophy he molded his life around, enabling him to get to the top and make history in the NBA. "We are very excited to hear Mark's story," says Steve Minucci, Regional President of Accelerent Nashville. "Mark is a successful entrepreneur who understands the challenges businesses face today. His experience can help all of us move our businesses forward."
The breakfast will be at the sixth most visited arena in the U.S., Bridgestone Arena, and runs from 7:00 A.M. to 9:30 A.M. This gives attendees plenty of time to meet an invitation-only group of local business leaders. To take full advantage of this unique event, Partners are encouraged to bring guests including existing clients, team members and prospects. Excellent food will be provided by Levy Restaurants, a company known for its passion in serving great tasting food in large venues. Steve Minucci says: "We are excited to be hosting the breakfast in this venue. The well-known facility provides great energy for our event."
Accelerent is a business development platform designed for companies that serve the middle market business community. Each Partner (client) is exclusive to its business category or industry and Accelerent provides services to assist its Partners with revenue growth and market exposure using the company's proprietary business development platform.
For more information visit accelerent.com.
The Company operates in Nashville, Washington, D.C., Baltimore, Kansas City, Phoenix and Indianapolis and its Partner base includes many well-known brands across 60+ industries. Accelerent helps its Partners get access to decision makers, faster and warmer, and that leads to more business and increased brand awareness.