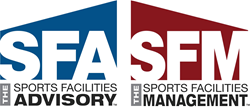 The forum is testament to the leadership of the Aspen Institute and Project Play as they seek long term solutions to critical societal issues.
Clearwater, FL (PRWEB) September 15, 2014
Dev Pathik, Founder and CEO of the Sports Facilities Advisory and Co-Founder and CEO of its sister firm, Sports Facilities Management (SFM), has again piqued the interest of sports industry leaders and recently been invited to join 20+ thought leaders for the Aspen Institute's Project Play roundtable to be held in Chicago, Illinois, on September 24. The roundtable, entitled, "Fields of Dreams: Innovate and They Will Come?", will feature speakers Tom Farrey, Executive Director of the Aspen Institute Sports & Society Program, and J.O. Spengler, University of Florida Sports Policy and Research Center. Attendees will address concerns surrounding the privatization of recreation and whether the trend still allows for equal access to safe, affordable recreation for all children.
According to Risa Isard of the Aspen Institute, Pathik "has been identified as one of 20+ thought leaders whose voices we hope to engage in this dialogue, which, in addition to serving the above goals, will help inform the Project Play report underwritten by the Robert Wood Johnson Foundation." Pathik said "I am honored to be part of this important dialogue as these issues have never been of greater importance to our society. We have enormous health issues among our young people and massive changes in the youth and amateur sports markets that contribute to and can address some of these health and wellness concerns. I hope I can lend perspective and look forward to learning from others."
SFA|SFM are deeply involve in facility planning, funding, and management. With over 1.5 million square feet of new indoor facility openings and nearly 800 acres of outdoor complexes in just 2013 and 2014, the firm is considered the central hub for new facility developments – further evidence is seen in the firms' recent hiring of several well known professionals, including former Disney executives and sports industry veterans. Pathik maintains that the Aspen Institute—which boasts event alumni including President Clinton, Kobe Bryant, Craig Robinson, Michelle Kwan, U.S. Olympic Committee CEO Scott Blackmun and American College of Sports Medicine CEO Jim Whitehead—provides an educational forum wherein industry thought leaders can convene and work to improve upon current models that not only support competitive youth sports, but also recreational activity for children and young adults.
"Discussions such as the Aspen Institute's roundtable offer a thought-provoking and informative forum in which to learn about the latest approaches to maximizing access to recreation, while also taking into account an industry which is leaning towards increasing privatization," said Pathik. "The forum is testament to the leadership of the Aspen Institute and Project Play as they seek long term solutions to critical societal issues."
Pathik, along with his SFA|SFM management team consisting of professionals from the Disney, House of Blues, the YMCA, NBC Comcast Global Spectrum, university athletics, Fortune 500 companies and corporate real estate managers, is regularly called upon by media outlets to comment on the exponential growth of the youth and amateur sports industry. Pathik's expertise has been sought out by Forbes, MarketWatch, [CNBC, NBC, and many other industry press outlets.
Pathik will be available for comment to the media at the roundtable, and is willing to speak on behalf of the industry.
For more information about SFA|SFM and its available suite of planning-funding-opening-management services, visit http://www.sportadvisory.com/home.html.
About Sports Facilities Advisory and Sports Facilities Management (SFA-SFM):
The Sports Facilities Advisory and Sports Facilities Management (SFA|SFM) is the leading resource in sports facility planning and management. SFA|SFM has helped to plan, fund, open and manage many multimillion-dollar sports complexes in communities throughout the USA and internationally since its founding in 2003. The expansive growth youth team sports and sports-related tourism has necessitated better quality facility management. SFA's proprietary data system—based on years of planning, funding and managing facilities, coupled with the rise of the youth sports segment—is the engine behind the development of SFM. Since its recent inception, SFM has already become an industry leader in the managing of amateur sports and events complexes, and along with SFA, provides the planning, financing and management expertise needed to turn ideas into successful recreation facilities. SFA-SFM serves public and private clients. Its services fall into four main categories: plan, fund, open and manage, which encompass every phase from early stage feasibility studies to preparing financing documents, overseeing development and opening and full-time management services. SFA-SFM's success depends upon its mission to dramatically improve communities through the opening or optimization of sports and recreation centers. For more information, visit http://www.sportadvisory.com/home.html.