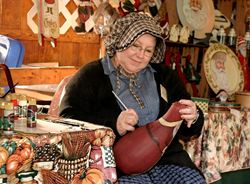 It's time to throw on some layers, grab a pumpkin spice latte, and travel to Tennessee...
Nashville, Tenn. (PRWEB) September 16, 2014
With cooler temperatures come a plethora of festivals in Tennessee that will pack any fall calendar. World-renown food festivals, lots of concerts, and a new museum honoring the Queen of Rock 'n' Roll are just some of the things happening in the Volunteer State during the autumnal months. It's time to throw on some layers, grab a pumpkin spice latte, and travel to Tennessee to enjoy these memorable events back dropped by beautiful fall foliage scenic views.
Tennessee's Queen
Each year in September, the legacy of Nutbush, Tenn.'s most famous resident and the Queen of Rock 'n' Roll, Tina Turner, is celebrated by fans that make the pilgrimage to her small town to meet, tour Nutbush, and celebrate her music. This year's Tina Turner Heritage Days features something extra special as Flagg Grove School, the childhood school of Turner, has its grand opening during the festivities Sept. 26-27 at the West Tennessee Delta Heritage Center in Brownsville. The school has been refurbished and designed as a museum filled with Tina Turner memorabilia like photos, costumes, awards, and records.
Tongues of tales
Tennessee's oldest city, Jonesborough, is the site of the National Storytelling Festival Oct. 3-5 where storytellers from around the world come to share their tales. Some of the storytellers include internationally-known artist, actor, recording artist, TV host, and storyteller Bobby Norfolk; Kuniko Yamamoto who will perform Japanese storytelling; and Donald Davis, whose stories awaken the rich history of the Southern Appalachian Mountains.
Natural Beauty
The Reelfoot Arts & Crafts Festival, one of the top three arts & crafts shows in Tennessee will take place Oct. 3-5 in Tiptonville. More than 45,000 people come to the festival to see exhibitors from across the U.S. as they showcase their wares and crafts. Nature walks around the 15,000 acre Reelfoot Lake, fishing, and wildlife viewing are also featured during the festival.
B-A-N-A-N-A-S
Centerville will go bananas Oct. 4-5 during the National Banana Pudding Festival and Cook-off. The festival includes a cook-off in front of a live audience, the Puddin' Path where attendees can sample 10 different puddings and Southern foods, and the cook-off auction. Two stages will offer a variety of entertainment from music to a local talent show.
From stories to sports
Chattanooga is home to the RiverRocks Adventure Sports Games every weekend in October. Elite-level outdoor athletes compete in 10 events including open water, mountain biking, and rock climbing and bouldering. Music like The 3 Sisters Bluegrass Festival, the Fly Free Fest, and, of course, the River Rocks Finale Oct. 25 at Coolidge Park will also take place.
Come home
One of the nation's largest and most authentic music and folk festivals happens at the Museum of Appalachia in Norris with its historic log buildings, authentic artifacts, gardens, and farm animals contained in split-rail fences. The 35th annual Tennessee Fall Homecoming Oct. 10-12 welcomes musicians to perform folk, bluegrass, old-time country tunes, Gospel, and traditional mountain music across five stages. Historic demonstrations like pioneer hunting and trapping techniques, quilting and more will also be highlighted to educate attendees on the area's history.
Creative Juices Flow
Visual and performing arts take place each year during the RiverArtsFest Oct. 24-26 in downtown Memphis. Regional and national artists and art lovers of all varieties flock to the city for the Juried Artist Market that houses more than 190 gallery-quality artists, an Invitational Show, and live street performances. Music entertainment with 50 acts will perform across three stages. Children can use their imaginations to participate in the Hands on Art attraction.
Eat Up
The Jack Daniel Distillery, the oldest registered distillery in the U.S., is the site for world-renowned The 26th annual Jack Daniel's World Championship Invitational Barbecue Oct. 25 in Lynchburg. Barbecue kings and queens from each corner of the globe battle for top honors and the $10,000 prize money. Bragging rights, fun contests, entertainment, and lots of barbecue and other foods are served up. Judging categories include Amateur and Invitational with awards announced at 4 p.m. More than 25,000 'cue fans can enjoy original games like the Country Dog Contest, Bung Toss, and cooking and grilling demonstrations.
Small Town Memories
Granville's Fall Celebration welcomes autumn with charm and activities 9 a.m. to 5 p.m. Oct. 4. Attendees should check out the Fall Arts Festival which hosts artists from the Upper Cumberland Arts Alliance. Demonstrations will include primitive cooking, soap making, wood carving, and much more. Take the chance to see beautiful fall foliage during the Cumberland River Cruises Oct. 3-5 as narrators share the local history and wildlife facts with patrons. Cruises depart Granville Veterans Park. Reservations are recommended by calling 615-451-4001.
For more autumn activities, visit tnvacation.com and join other Tennessee travelers by following "TNVacation" on Facebook, Twitter, Pinterest, Instagram and YouTube.
# # #