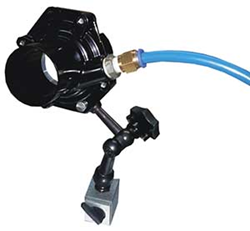 //nexflow.com/air-
Nex Flow™ Air Amplifiers take compressed air and entrain surrounding air to amplify Air Flow downstream. Often called "Air Movers" they move a tremendous amount of air utilizing the "Coanda" effect. The downstream air produced has high velocity and "laminar flow" for strong blow-off an cleaning power.
Nex Flow™ Heavy Duty Standard "Fixed Gap" Air Amplifiers are protective coated, cast zinc and aluminum units which are rugged for factory environments. No Moving Parts, Quiet, Compact, Portable, No Electricity, Low in Cost, Superior in Design and Performance
Units are designed to mount easily with built in mounting holes or with an optional Mounting System.
Applications include:
Remove water, coolant, dust and scrap in parts manufacturing/assembly operations.
Cool enamel and water based paints in parts manufacturing, auto body shops or assembly lines
Blow off of water from the tops of cans, bottles and all types of packaging prior to labeling.
Ink jetting, palletizing or packaging, convey light materials and waste, part ejection,
Fume removal, dust and liquid blow off from all types of parts, replace fans for better and faster cooling in many applications.
Cool, clean and dry all types of material before painting, coating or polishing.

Remove coolant mist from machining operations and to boost existing fume removal systems.

Cool steel forgings, and from trim removal in paper, film or foil operations.