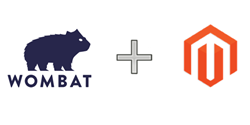 (PRWEB) September 17, 2014
Spree Commerce has released its upgraded, officially supported Magento integration for Wombat. Spree Commerce Certified Partner and ecommerce development firm Sellry built and upgraded the connection to Magento stores for Spree Commerce's automated ecommerce integration platform, Wombat. Wombat gives its clients the most diverse and effective arsenal of ecommerce connections in the industry. Sellry, with extensive Magento experience, specializes in everything ecommerce— from user experience strategy to data integration. Sellry has made its name delivering website facelifts and launching product microsites for some of the leading brands in the ecommerce industry
Magento storefront users, of both Enterprise as well as the Community Edition, can connect with Wombat in just minutes. Using Wombat's newly upgraded integration, Magento users have easy access to all of the convenient, out-of-the-box ecommerce integrations that Wombat offers. For bi-directional connections to the Magento API just use the official Wombat-Magento integration. If one-way data pushes are sufficient then use the Magento extension, built by Sellry, to sync with Wombat.
"Wombat has given us the backend stability that we so desperately needed. It's a vast improvement over the homegrown solution we were using previously," said Bonobos CEO Andy Dunn.
Join us on Wednesday, September 24th at 2PM Eastern Time (US) for a co-hosted Magento integration webinar. The webinar will be led by Chief Strategy Officer Michael Bower of Sellry, who will provide an in-depth look at how to quickly streamline your operations by integrating your Magento storefront with Wombat.
"There are many obstacles a Magento storefront must overcome in order to provide a stellar user experience," said Michael Bower, Chief Strategy Officer of Sellry. "Integrating and maintaining connections to critical third-party services are near the top of the list. That's why we're very pleased to have upgraded the way Magento stores connect to Wombat. Magento storefronts can now very quickly connect their stores with Wombat and enjoy the easy, pre-built integrations and streamlined back-end operations that Wombat provides."
Get access to the Magento platform for Wombat by signing up for a two week integration platform trial.
About Sellry
Sellry is a technically-oriented ecommerce development agency based out of San Diego, California. With optimal melding of technical wizardry, innovative design, and creative strategy, Sellry is ardent about giving your business everything it needs to excel. Sellry specializes in all things ecommerce—from user experience strategy and interface design to high-end hosting optimization; from custom module development to data integration.
About Spree Commerce
Spree Commerce offers one of the most popular ecommerce platforms in the world. The modular platform allows for easy customization so developers and storeowners can configure Spree for their specific needs. With an active and growing community, Spree is now one of the top open source technology projects in the world.
Spree Commerce is also the creator of Wombat, an integration platform that scales ecommerce businesses of all sizes. Wombat works with all leading storefront platforms to integrate mission critical services in just minutes, not weeks or months. With Wombat, you'll never worry about losing an order or connecting your ERP, POS system or fulfillment provider. Connect any store to any service, no custom code required. For more information on Wombat, visit https://wombat.co/