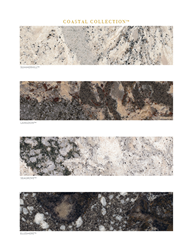 LE SUEUR, MN (PRWEB) September 16, 2014
Cambria, the only family-owned, American made natural stone producer in North America, today announces the immediate availability of 13 new beautiful and innovative designs across five collections. This latest release follows two previous launches from Cambria in 2014, bringing 20 of the most current and desirable designs to homeowners and designers this year.
"As the leader in natural stone surfaces, we are committed to pushing boundaries and setting new standards for our customers with every launch," says Nancy Jerdee, Sr. Vice President of Marketing at Cambria. "When it comes to consistently delivering the freshest, most beautiful designs in the industry, our expansive and distinct palette has made us the premier and preferred source for homeowners, retailers, architects, contractors and designers."
Unlike other stone surfaces, all Cambria designs are completely maintenance-free and offered at the same price point, giving customers flexibility to explore all design possibilities without compromising style preference or budget.
With American-made quality and craftsmanship, Cambria's design inspiration comes from the Welsh heritage of its founding family. Each design captures the timeless and alluring land of Wales and the British Isles, connecting customers to its unique story, and brings a piece of the Welsh legacy and beauty into their homes.
From the new Coastal Collection™; Ellesmere™, Langdon™, Seagrove™ and Summerhill™, are dramatic and flowing designs inspired by the masterful clashing of rock, sand, and water. In the Waterstone Collection™; Berwyn™, Hampshire™, Montgomery™, and Wentwood™, capture the natural movement of water over stone. Brighstone™, Daron™, and Menai™ from the Jewel Collection™ sparkle from deep within the surface creating a show-stopping radiance. In the Desert Collection™, Walton™ provides a beautiful monochrome foundation that portrays subtle sophistication and adaptability. And finally, Castlemartin™ of the Marble Collection™, offers upscale elegance without the worry of high maintenance.
Cambria continues to develop and deliver new design standards for today and tomorrow. Look for more to come in 2015 and beyond. To view Cambria's newly launched designs and the entire palette, visit CambriaUSA.com or CambriaCANADA.com.