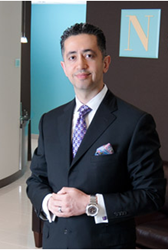 HERNDON, VIRGINIA (PRWEB) September 17, 2014
Dr. Shervin Naderi, MD, FACS, one of the country's top rhinoplasty specialist surgeons, has been recognized as a recipient of the 2014 Vitals Top 10 Doctor Award. This award is reserved for only the best of the best as it honors physicians that have earned the highest patient ratings by specialty.
Dr. Naderi, who is affectionately known by his plastic surgeon colleagues as "The Nose Man," is one of only a handful of true rhinoplasty specialist surgeons in the world. He is the founder of the distinguished and reputable Naderi Center for Rhinoplasty & Cosmetic Surgery located in the Washington D.C. area, including Chevy Chase Maryland. Dr. Naderi has focused his practice on rhinoplasty, revision rhinoplasty and advanced injection techniques involving Botox and Dermal Fillers. In addition, he is a fully fellowship-trained, double board certified facial plastic surgeon and an actual examiner for the American Board of Facial Plastic & Reconstructive Surgery.
The excellence Dr. Naderi has become known for has earned him a worldwide reputation. It is common for plastic surgeons around the nation to refer their most complex rhinoplasty as well as tear trough injections and non-surgical rhinoplasty cases to Dr. Naderi. Furthermore, he serves as a clinical instructor teaching the intricacies of Botox and Filler injections to doctors and nurses.
Winners of the Vitals Top 10 Doctor Award are selected from the feedback hundreds of thousands of patients provide online at vitals.com about their doctor experiences. Patients first provide an overall rating. Next, they write a more detailed description of their physician experience. Finally, patients rate their doctor on several aspects of the care they received such as bedside manner, face time with the doctor, and the degree of follow-up.
Vitals takes the patient ratings and analyzes them to identify those physicians rated the highest by their patients. The doctors who win the award represent 39 specialties in more than 2,500 neighborhoods across the nation. This award meant Dr. Naderi was among the top 1 percent of the nation's physicians, which total around 870,000.
A native of Newton, Massachusetts, Dr. Naderi earned his Bachelors and Masters Degree from Boston University before going on to receive a medical degree from the Medical College of Pennsylvania – Hahnemann University School of Medicine, which is now known as Drexel University College of Medicine in Philadelphia. The next step along Dr. Naderi's medical journey was completing an exhaustive general surgery internship. He then completed a dynamic surgical residency in the field of head and neck surgery, followed by a Fellowship in Facial Plastic Surgery.
Dr. Naderi is certified by both the American Board of Facial Plastic & Reconstructive Surgery (ABFPRS) and the American Board of Otolaryngology (ABO) making him well suited for aesthetic and functional nasal surgery. He also dedicates time to mentoring young surgeons by having written chapters on a variety of topics in some of the nation's most well known surgical textbooks for facial plastics.
In addition to overseeing two facial plastic practices in Chevy Chase, Maryland, and Herndon, Virginia, Dr. Naderi has authored numerous articles about plastic surgery in various newspapers, medical journals, and magazines.
To learn more about Dr. Naderi and the Naderi Center for Rhinoplasty & Cosmetic Surgery, please visit http://www.virginiafacialplasticsurgery.com.
Vitals.com is the only website dedicated to helping patients find doctors that meet their needs, request appointments and prepare for their visit with their condition-specific Patient Guides. Used by over 11 million people each month, Vitals' goal is to make it easy for patients to find and connect with quality medical care. For more information, please visit http://www.vitals.com.