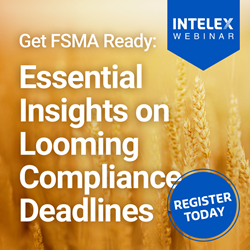 Toronto (PRWEB) September 16, 2014
Intelex is extending an invitation to Food and Beverage executives responsible for ensuring food safety for their organizations to attend an exclusive online event, Get FSMA Ready: Essential Insights on Looming Compliance Deadlines.
With the deadlines for the FDA's Food Safety Modernization Act (FSMA) fast approaching, it's imperative that organizations in the food and beverage industry understand the new regulations and ensure compliance now rather than waiting until the compliance deadlines are upon them. Failure to comply with these regulations can seriously impact organizations, from incurring fines to plant closures, or worse, a reputation damaging recall. Taking the proactive steps to implement a prevention-based food safety system now, will prove advantageous to businesses looking to ensure FSMA compliance.
"The key is to understand FSMA's requirements and what is expected of your organization and to implement a take-charge approach to stay ahead of the deadlines," says Jeremy Mawson, Food Safety Solution Specialist at Intelex. "A streamlined food safety system will equip your business with the fundamentals it needs to seamlessly comply with FSMA legislation. Proactively preparing your organization for these deadlines will be a key contributor to your business' success, ensuring food safety throughout your supply chain."
Key topics to be discussed will include how to best prepare your organization for the FSMA deadlines and how to implement and streamline a FSMA-ready food safety plan by using leading food safety management technology. Interested Food and Beverage executives are invited to attend this exclusive event Thursday, September 18th at 2:00 EST, please visit Intelex.com to sign up or for more information.
About Intelex: With more than 850 clients and 750,000 users, Intelex Technologies Inc. is a global leader in environment, health, safety (EHS) and quality management software. Since 1992 its scalable, web-based platform and applications have helped clients across all industries improve business performance, mitigate organization-wide risk, and ensure sustained compliance with internationally accepted standards (e.g. ISO 9001, ISO 14001 and OHSAS 18001) and regulatory requirements. Intelex is one of Canada's most highly awarded and fastest-growing tech companies and has been named one of the Best Managed Companies in Canada, one of the fastest growing companies in PROFIT Magazine, as well as one of the country's top employers by Aon Hewitt and Best Small and Medium Employers. For more information, visit http://www.intelex.com.