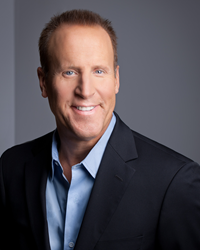 I want to be part of the programmatic revolution.
NEW YORK, NY (PRWEB) September 16, 2014
Chango, the only programmatic advertising company powered by live-profile technology, announced today that Keith Lorizio has joined the company as Chief Revenue Officer. He will be responsible for driving the company's revenue strategy, identifying new opportunities and expanding the sales and client development teams.
Lorizio was previously Vice President of US sales & marketing for Microsoft's advertising business.
According to the most recent study from Magna Global (Interpublic Group), US digital display ad dollars spent via both RTB and direct programmatic methods will total $9.8 billion by year's end, growing to $16.9 billion by 2017.
"Chango is undergoing a period of tremendous growth, we doubled the number of Fortune 500 clients this year, and Keith's track record in building successful sales teams speaks for itself," said Chris Sukornyk, CEO and co-founder of Chango. "He understands the needs and wants of marketers and can help communicate the incredible value programmatic and our platform can bring to them."
"I've watched 'programmatic' evolve from a concept, to a buzzword, to a fundamental strategy that is the future of online advertising," said Lorizio. "Today, you can programmatically buy inventory of all ad types across all platforms to maximize your ROI, as well as create an elite brand experience. I want to be part of the programmatic revolution. Chango is the only company that had the vision to build a powerful platform from the ground up designed specifically for live programmatic advertising. Add in their vast exclusive intent data and a unique ability to target with both real-time media and real-time data, and you've got an offering that no other company can come close to matching."
Lorizio will be based out of Chango's New York office.
At Microsoft, Lorizio grew and led a 450-person sales team responsible for more than $1 billion in annual revenue. He first joined Microsoft in 2005 as general manager of strategic sales, where he founded a mid-market sales team that remains the fastest growing business in the division today.
Before Microsoft, Lorizio was Vice President of sales at Yahoo! Inc. where he built a mid-market sales team from scratch which grew revenue to over $350 million during his tenure. Previous positions include Vice President of East Coast and inside sales for AltaVista, and senior sales management positions for the print advertising division of Bell Atlantic.
Former chief revenue officer Dax Hamman, moves fully into a new role of Chief Product Officer.
About Chango
Chango is a programmatic advertising company, purpose-built for the marketer. The company uses exclusive intent data and technology to create relevant, timely advertising campaigns, and produce rich customer insights.
The company's unique live-profile technology makes intent data available faster than anyone else to help clients efficiently build brand awareness, acquire new customers and retarget site visitors. Chango works with more than 60 of Fortune 500 marketers and companies such as eBay, Sears, Clorox, Sprint and Toyota. To find out more, visit http://www.chango.com.